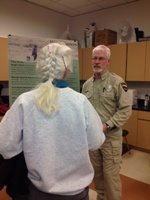 Natural Areas Master Plan 2014
The Fort Collins community has conserved 43 natural areas encompassing over 35,000 acres. Natural Areas are a beloved asset, central to our community's identity and quality of life. The City of Fort Collins Natural Areas Department is responsible for fulfilling the community's vision for land conservation and stewardship described in citizen-initiated sales tax ballot measures and adopted plans and policies.
The City's land conservation and stewardship for the next ten years will be guided by the Natural Areas Master Plan.
Final Draft Master Plan
The
Final Draft Natural Areas Master Plan
will be presented to the Land Conservation and Stewardship Board on September 10th for their recommendation to City Council for Adoption on October 7th. A
Final Draft Executive Summary
has also been prepared.
Master Plan Timeline
September 10-Land Conservation and Stewardship Board will consider recommendation for Council adoption.
October 7- City Council will consider adopting the Master Plan.

Previous Outreach

August 12 - Plan was presented to City Council at their work session.
June 19-July 19- Public comments on the Master Plan were sought.
June 19- The second Open House was held at the Natural Areas Department's Main Office.
Spring 2014- Presentations and input from City Advisory Boards.
January 30- First Open House was held at the Fort Collins Museum of Discovery.




Natural Areas Department