About the Award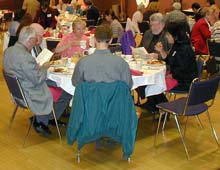 Human Relations Award Breakfast
For nearly two decades, the Human Relations Award has recognized the outstanding contributions Fort Collins residents have made to minority and disadvantaged citizens in the community. Award recipients have embodied the spirit of inclusiveness, giving and altruism that has made Fort Collins into a better place for all people to live.
The Award has been given on an annual basis in four general categories, but starting this year, will be expanded to six:
Police and Emergency Services Award (public service personnel)
Senior Award (60 years and older)
Adult Award (19-59 years of age).
Youth Award (18 & younger).
Non-profit Organization
For-profit Organization

Nominations are taken in all categories between January and March of each year. These nominations usually consist of a description of the nominee's efforts and a few recommendations. Award winners will be decided upon by a panel of volunteer judges.
All nominees and their friends/family are invited to the Human Relations Award Breakfast, traditionally held in late April or May. The event, which is designed to celebrate the accomplishments of all nominees, is attended by the Mayor, the City Council, and other top Fort Collins officials.
After an introduction by the Mayor and an address from a keynote speaker, the members of the Human Relations Commission announce and describe the efforts of all the nominees. The recipients then receive a plaque commemorating their contributions to community.
In addition to being celebrated at local events throughout the year the Award recipients' names are added to a plaque displayed at City Hall.