Human Relations Award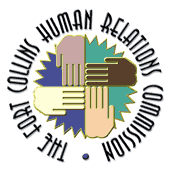 Every year the Human Relations Award recognizes those in our community who promote acceptance and respect for diversity in the City of Fort Collins. Nominations are taken in the five different categories outlined below.
Criteria:
The award process considers the length of service and commitment to the community. Anyone who has not previously won the Award is eligible for consideration. There are no Fort Collins residency requirements.
Now accepting nomination forms for The City of Fort Collins, Human Relations Award.
*nominees will be invited to an Awards Breakfast.
Nominations for the Human Relations Award are being sought for the following categories:
Police and Emergency Services Award (public service personnel)
Senior Award (60 years and older)
Adult Award (19-59 years of age).
Youth Award (18 & younger).
Organization Award
Nominations for the Senior, Adult and Youth awards must meet the following criteria:
Volunteer (not in your paid role)
if volunteering with an organization, organization must be non-profit status
serves a minority/disadvantaged population
makes a significant contribution
Nominations for Police/Emergency Services and the Organization Awards must meet the following criteria:
serves a minority/disadvantaged population
makes a significant contribution
non-profit status
Questions:
Follow the topic links to the right for more information about the Human Relations Award. If you have further questions, please call 221-6819 or send an e-mail to HRC web address: http://www.fcgov.com/cityclerk/human-relations.php