Detailed map of overall progress on North College Improvements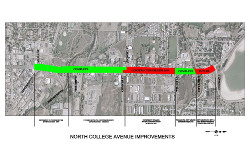 DOWNLOADS
Map of North College Improvements
North College Corridor Plan
North College Urban Renewal Plan
US 287/SH 14 Access Management Report
PUBLIC NOTICES
October 9 Public Notification
August 17 Public Notification
July 26 Public Notification
May 5 Public Notification
April 13 Public Notification
North College Improvements
Overview
The City of Fort Collins and Colorado Department of Transportation are working in tandem to bring North College Avenue/ US Highway 287 (from Jefferson Street to the city limits) the amenities needed to support traveler safety, economic vitality and community livability. With three sections of a four-part project complete, the vision for this important northern gateway to Fort Collins is almost a full reality.
The City secured federal and local funding to complete the final section, Conifer Street to Willox Lane, and construction is now underway. As in previous phases of the North College Improvements project, the design team worked closely with the public, specifically the North Fort Collins Business Association, to develop design plans which met City and State goals, yet still worked with existing businesses. The project team anticipates construction will be completed by October 2015.
Project Schedule
Utility Relocations: Begin June 2014 through Fall 2014
Rear Access Road: Begin July 2014 through Fall 2014
North College Improvements: Begin Sept 2014 through Fall 2015
The Project
This project will design, acquire rights-of-way, and construct multimodal, roadway and utility improvements along North College Avenue between Conifer Street and Willox Lane. The City of Fort Collins recently completed improvements to North College directly north of the proposed project limits, as well as south of the proposed project. Constructed improvements brought these sections of North College up to the City's current street standards. The section of North College from Conifer Street to Willox Lane is the only remaining section of North College to be addressed in order to complete the City's vision for the corridor.
Photo of the Week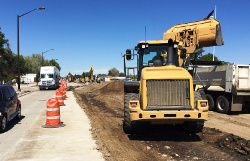 Project Goals
Create a safe and effective travel corridor for all users including bicycles, pedestrians, transit users, passenger vehicles and heavy vehicles
Define access points as highlighted in the US 287/SH14 Access Management Report
Maintain compatibility with utilities, including stormwater, water, sewer, power and communications
Support the economic viability of the project area
Upgrade the image of the North College Corridor while minimizing impacts to existing infrastructure
Maintain compatibility with the intent of previous local planning efforts
Coordinate with the Colorado Department of Transportation (CDOT)
Anticipated Improvements
Multimodal Improvements: on-street bike lanes, pedestrian facilities, upgraded transit stops
Defined and Consolidated Access points
Medians
Sections of Rear Access Roads
Drainage Improvements
Utility upgrades
Pavement Improvements
Landscaped Parkways
Urban Design Elements
Project Funding
The City has secured both local and federal funds to design the improvements as well as acquire right-of-way for the project. The anticipated overall project budget falls between $10-$12 million. Currently, available funds include:
Federal Funds - $6.8 mil
Local Funds - $5.2 mil
Total Project Budget - $12.0 mil
Public Outreach
Similar to the previous North College projects, the design team is working closely with the public, specifically the North Fort Collins Business Association (NFCBA) to develop design plans which meet City and State goals yet still work with existing businesses. Staff will be attending the monthly NFCBA meetings to provide monthly updates and to answer questions.
Past Events
Open House (May 28, 2014)


Contact
Matt Baker
Street Oversizing Project Manager
970-222-0748
Mark Laken
Civil Engineer I
970-222-3546