Climate Protection
Hot Topics
The City of Fort Collins reduced its municipal carbon by 12 percent between 2005 and 2014 – a higher rate than that of the overall community, which reduced emissions by 3 percent.
As outlined in the recently published 2014-2105 Municipal Sustainability Report emissions from City buildings, facilities and vehicles are being lowered in accordance with the goal of reducing carbon emissions by 20 percent by 2020. The City organization has formally adopted the accelerated goal of reducing carbon 80 percent by 2030 and carbon neutrality by 2050.
During 2015 Fort Collins developed a new Climate Action Plan Framework document and adopted bold new carbon reduction goals to reduce community carbon emissions by 20% below 2005 levels by 2020, by 80% below 2005 levels by 2030, and to achieve carbon neutrality by 2050. The 2014 Climate Action Status report is the annual summary of major carbon reductions achieved through City and key community partners' programs and policies. Per capita community GHG emissions have dropped 18% since the baseline year 2005, however, overall GHG emissions are only down 2.6% for the same timeframe. The upcoming year will bring about several new strategic initiatives designed to achieve these new goals, and progress will be reported in the next annual Climate Action Status report.
Read the full report.
Read the 2013 report.
Read the 2012 report.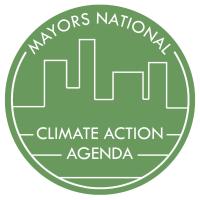 Fort Collins Mayor Wade Troxell today announced he joined the Mayors National Climate Action Agenda in a push for climate action at a national and international level.
The 27 mayors - from such major cities as Denver, San Francisco, Orlando and Philadelphia - are asking President Obama to fight for the strongest possible climate agreement at the upcoming 21st Conference of the Parties to the United Nations Framework Convention on Climate Change (COP21) in Paris. They also requested federal action to establish binding national greenhouse gas emissions reductions in the United States.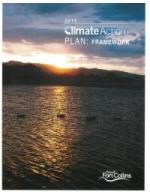 The Fort Collins City Council on March 3 unanimously adopted some of the most aggressive goals in the nation to reduce community greenhouse gas emissions: 20 percent below 2005 by 2020 and 80 percent by 2030, which would put the community on a path to be carbon neutral by 2050. Council adopted the goals after four work sessions, multiple public forums and nine months of work with a Citizen Advisory Committee that helped shape the overall 2015 Climate Action Plan Framework. This action speeds up the City's original 2008 goals to reduce emissions to 20 percent below 2005 levels by 2020 and 80 percent by 2050. (See Press Release)
Learn more about the process and Climate Citizen Advisory Committee.
The 2015 Climate Action Plan Framework lays out a number of high level strategies in the areas of Building, Mobility, Energy Supply and Waste Reduction that, if implemented, are estimated to accomplish just over 30% reduction by 2020, just over 75% reduction by 2030, and just over 85% reduction by 2050, compared to 2005 levels.
Next steps for 2015 and into 2016 will involve developing implementation details to prioritize actions and associated near-term budget requests needed to meet the 2020 greenhouse gas goals and longer term targets, and continue public engagement.
The City remains committed to reducing greenhouse gas emissions (GHG) through multiple strategies. Please visit fcgov.com/enviro to learn more about how you can help fight climate change and participate in a variety of city programs to improve your home or business.
Request a Presentation for Your Group
Contact Environmental Services Department (970-221-6600) to schedule a presentation by City staff.
Click here to provide your comments.
2014 Community and Municipal GHG Emissions Inventory Quality Management Plans Now Available
The City has compiled the 2013 inventories of Greenhouse Gas (GHG) emissions for the community and municipal operations. The detailed methodologies in these reference documents were developed to provide complete data transparency, and provide quality assurance and quality control procedures to ensure data integrity for the City's annual Community and Municipal GHG Emissions Inventories.
Climate Protection
Physical Address: 215 N Mason St, Fort Collins, CO 80524
Mailing Address: PO Box 580, Ft. Collins, CO 80522-0580
Phone: (970) 221-6600
Fax: (970) 224-6177
Email:
Normal Business Hours: 8 a.m. to 5 p.m. (M-F, except for holidays)