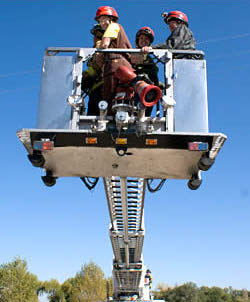 CityWorks 101
Want to know exactly how city tax dollars are spent? Curious about the specifics of City operations? Are you interested in making Fort Collins a better place? Then CityWorks 101 is for you. The City of Fort Collins is offering an eight-week program, which will give residents a behind-the-scenes look at running a city. CityWorks 101 provides a unique opportunity to learn more about what services the City provides, and how the City provides them. Participants will see first hand how the City makes decisions and allocates funds.
Classes take place on Thursday evenings, 6-9 p.m., April 2-May 21, and cover the following topics:
Ready, Set, Gov - an introduction to Fort Collins local government
Creating a Vibrant Community – information on city finances, economic health, and community planning.
To Serve and Protect – a behind the scenes look at police operations
The Way You Move – a look into street operations, traffic, parking, transit, and more
The Utility of it All – an inside look at water, wastewater, stormwater, and electric utilities
Let's Play – an in-depth look at parks and trails, recreation, cultural services, and the hard work behind having fun.
Go Green – learn more about our natural areas, environmental programs, and sustainability efforts
Pay it Forward – see how it all comes together to form the City's budget
The program also includes a graduation ceremony on June 2 and two optional Saturday morning tours, dates TBD.
To be considered for CityWorks 101 you must have lived within the Fort Collins Growth Management Area (GMA) for at least one year. Class size is limited to a maximum of 30 people; priority is given to applicants who will attend all eight classes.
The City of Fort Collins currently has 26 standing boards, commissions and authorities consisting of approximately 225 volunteer members. All board members are appointed by the Fort Collins City Council and serve without compensation. Boards and commissions are established for the purpose of acquiring and studying information in specific areas and to make recommendations to City Council on issues within the board's area of expertise. Some boards are quasi-judicial and have decision-making powers within their areas of expertise. Decisions made by quasi-judicial boards are appealable to the City Council or the courts.
Police Services is always looking for Victim Advocates, and D1, the Downtown substation, will often have volunteer office assistance opportunities. For those who want to learn more about FCPS, the Citizens Police Academy takes place each fall.
Neighborhood Services
Volunteer Mediators

Mediators who have completed a 40-hour basic mediation training can volunteer with the Community Mediation Program to provide conflict resolution services to Fort Collins residents involved in conflict with their neighbors

Restorative Justice Volunteers

Restorative Justice Services is often open for new volunteers who want to make a difference in the lives of young people and community members affected by crime. We want people with good communication skills, open minds and a desire to work with youth and families. Experience in restorative justice, mediation and/or group facilitation is helpful. We are also looking to balance our volunteer team with more adult males. To learn more about the Restorative Justice Programs, call Perrie McMillen 970-416-2290.
Healthy Sustainable Homes Program Volunteers. We offer a 20 hour training each April for community volunteers to become Master Home Educators.
Volunteer Master Naturalists
Volunteer Master Naturalist Assistants
Volunteer Ranger Assistants
Adopt a Natural Area Volunteers
Adopt a Trail Volunteers
Service Learning Projects – One time volunteer events.