City Hall
"Watershed Stones"
By Richard Hansen
2005
300 Laporte Ave.
Located within the Xeriscape Demonstration Garden, this environmental art element seeks to bring a rich variety of water experiences to the visitor while quietly evoking a sculptural translation of the region's hydrological continuum. With only 15 inches of rainfall annually, treated water is a carefully manufactured supply that arrives to Fort Collins citizens only after completing the continuum illustrated in "Watershed Stones". Using local materials Hansen's use of water invites contact by the visitor while utilizing low flows appropriate to the Xeriscape garden concept.
About the Artist
Richard Hansen is currently Associate Professor of Art at Pueblo College, in Pueblo, CO. He holds a BA from College of William and Mary and a MLA from University of Colorado, Boulder. As a sculptor and landscape architect, his creative work centers on the poetics of water.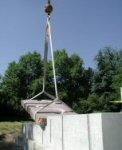 Granite slabs are craned in.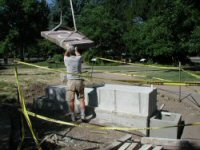 Granite slabs are craned in.
Artist Richard Hansen attends to the stone placement.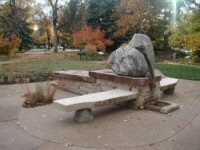 Stone in place.