Spotlights
Radon Explained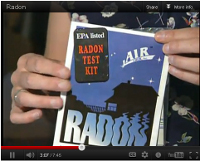 Radon. It's odorless, tasteless and invisible. Radon is a naturally occurring radioactive gas found in the natural decay of rock, soil and water. According to the EPA, radon is the number one cause of lung cancer in non-smokers and the second leading cause in smokers. Radon is everywhere and nearly every state has homes with high levels of radon. In this video we explain radon, as well as provide detailed information from local experts.
Radon: Test. Fix. Save a Life.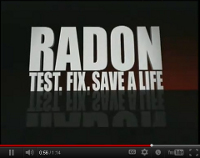 Watch Eddie's Story, a PSA testimonial from a survivor of lung cancer due to breathing radon gas in his home.
Watch Radon PSA Video »
Air Quality Loans Available
Did you know that the City offers air quality loans for radon mitigation and other home improvement projects that will save energy, save water, or improve air quality? Learn more about our Air Quality Loan Program.
Test Your Home for Radon with Inexpensive Kits!
Test for radon today. It's easy. Stop by the Fort Collins Senior Center (1200 Raintree Drive) or the Fort Collins Development Review Center (281 North College Ave.) and pick up either a short-term test kit at a discounted rate of $4.00, or a long-term kit for $15.00.
If you find radon in your home at levels of 4 pCi/L or higher, it's time to fix the problem. Please feel free to download our radon brochure for your reference. It includes details on discounted test kits, how to test for radon, and much more.
Learn more about radon gas and how to make sure your home is safe.
70% of Fort Collins Homes Have Radon Levels above EPA Acceptable Levels!
The good news is, you can test your home for radon levels and fix any problems you find.
How Do I Test for Radon?
There are two approaches to measure radon.
Test it yourself. The City of Fort Collins recommends and sells radon-testing kits at a discounted rate of $4.00 for short-term, $15.00 for long-term kits. Please visit: Fort Collins Senior Center at 1200 Raintree Drive or the Fort Collins Development Review Center at 281 North College Ave.
Hire a professional tester. The Colorado Department of Health and Environment provides an updated list of testers that have been certified by the National Environmental Health Association or the National Radon Safety Board. You can also find radon professionals in the phone book under Radon Testing or Radon Mitigation.
Radon in Real Estate
Appendix F of the Fort Collins Building Code requires radon-resistant new construction. All single-family homes and duplexes must be equipped with a passive radon-reduction system during construction. For further information, see the background and resources related to City Council's adoption of the RRNC ordinance.
Radon information is required at point-of-sale in residential real estate transactions.
Radon: How to Use a Test Kit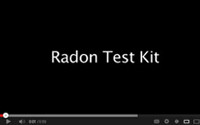 Watch this brief video on how to properly use a radon test kit.
Radon: How to Use a Test Kit »