Additional Services
Ice Removal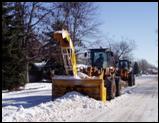 Sometimes a heavy snow, a continued freeze/thaw cycle or excessive shade causes a dangerous build-up of ice along the sides of streets or at intersections. When this occurs, the Streets Department prioritizes these areas and posts "No Parking" signs along the street. A minimum of 24 hours later, the vehicles remaining in the no parking area may be towed at the owner's expense in order for ice to be removed.
Downtown Snow Removal
Snow is generally removed from the downtown area between midnight and 8:00am, after the snow storm ends. Large, heavy equipment scrape snow and ice from the gutter and parking spaces and push it to the center of the street. From there, large snow blowers load the snow into dump trucks, which then haul the snow to designated dumping sites.
Bike Lane Plowing
Snow removal efforts are also concentrated on key street bike lanes and trails throughout the city. Bike lane snow removal is a top priority but presents several challenges. During plowing operations, it can be a real balancing act of removing the snow from the driving lanes without burying the adjacent bike lanes and sidewalks. Some bike lanes along arterial streets like Shields Street are only 24" wide. The bike lane is adjacent to a 14" wide gutter which is immediately adjacent to the sidewalk. With heavy snow accumulation, the gutter is inadequate to accommodate two lanes of traffic snow, the bike lane snow and in some cases the sidewalk snow. Following a heavy storm, some bike lanes may not be completely open for several days. The Streets Department also removes snow on the Mason Trail, while the Parks Department removes snow on the remaining bike trails including the Spring Creek Trail and the Poudre River Trail.
Sidewalk Plowing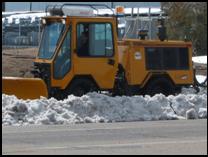 The Streets Department performs sidewalk snow removal along 86 miles of sidewalks, many are located adjacent to Priority 1 arterial streets (such as Lemay, Drake, etc.). Because these sidewalks are positioned next to the curb on arterial streets, snowplows unavoidably deposit large amounts snow directly onto the sidewalk. When plowing operations have finished, a sidewalk snow removal crew will begin to remove snow from designated arterial sidewalks, using tractor and trackless machines. Fort Collins is one of very few Front Range cities to perform this service.
Residents are required to shovel their sidewalk along their property within 24 hours of snow accumulating. If a sidewalk is not completely cleared of snow and the City shovels or applies ice melt, there will be a cost to the property owner. The City will shovel driveways and sidewalks if they are buried by snowplowing after residents have cleared them. If your cleared driveway or sidewalk is covered by a snowplow, report it to the Streets Department at 970-221-6615.
Businesses' Responsibilities
Business owners and private contractors are strictly prohibited by City ordinance from pushing snow from private lots into the street or on public right-of-ways. Private contractors are often hired to provide parking lot and sidewalk snow removal for local businesses. Unfortunately many private contractors are unaware of the problems they can create. Snow from private property is often pushed into the street or public right-of-way, which typically extends to 5 feet behind the curb.
Such practices can block drainage or create a hazard on public sidewalks. Piled high enough, snow can block motorists' views of oncoming traffic. When snow is pushed into the street, even temporarily, it can create a serious hazard for motorists and create liability for the business owner.
The exception to this rule is for businesses in the downtown snow removal area. These businesses are encouraged to shovel snow from their sidewalks into the street prior to the City's downtown snow removal operations. This is the only instance when shoveling snow into the street is acceptable.