Grandview Cemetery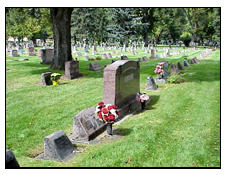 1900 W. Mountain Avenue
Fort Collins, Colorado 80521
970.221.6810
FAX 970.221.6381
Office hours: 8am-12pm and 1-5:pm Monday thru Friday except holidays.
Open dawn to dusk daily.

Map of Cemeteries

Have a question or need more information? Use the new Ask the Cemetery form to request information or provide comments.
Cemetery Decorations:
Live flowers may be planted and cultivated on any burial space at any time except in Sections 11 and T. However, all planting shall be located within 10 inches of the front and sides of the monument, if space available, or in an approved vase.
Under no circumstances may glass vases be placed on the grounds.
In the areas where there is a main memorial and a secondary flush memorial, there is to be no planting and no vases in front of the secondary flush memorial.
Artificial or fresh cut flowers may be placed in a metal vase at any time. They will be discarded when dead, faded, broken or of a similar nature. Such a vase must be set in concrete with a minimum three inch border and within six inches of the monument. The cemetery crew shall install all vases.
Sprays and wreaths made of fresh cut flowers are allowed, but they will be removed within two weeks or sooner, if they become unsightly or detrimental in the Cemetery Superintendent's opinion.
Christmas blankets and wreaths are allowed May 15 through June 10 and from December 1 through February 1. The Cemetery Superintendent shall order the removal of all artificial sprays and wreaths when they become unsightly or are blown off the burial spaces.
Bushes or trees of any kind except roses or peonies are not allowed. Only one rose bush or one peony will be allowed per burial space. Such bushes must be planted within 10 inches of the front and sides of the monument, if space available.
The placing of boxes, shells, stones, boulders, toys, metal designs, ornaments, chairs, settees, unattached vases, glass, urns, fences, wood or metal cases, temporary grave markers and similar articles on lots or burial spaces shall not be permitted.
The City shall not be held liable for lost, misplaced or broken flower vases or for damage caused by the elements, thieves, vandals, or by causes beyond its control. The City reserves the right to regulate the method of decorating lots and the right to remove any decoration so that a uniform beauty may be maintained.