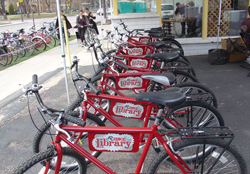 The Fort Collins Bike Library is a free bicycle sharing service.
Fort Collins Bike Library Alternative Analysis
Taking Our Bike Library to the Next Level
Fort Collins was among 43 communities in 27 states awarded free technical assistance by the U.S. Environmental Protection Agency (EPA) to explore the possibility of establishing or expanding a local Bike Share program. Bike Share is a service where bicycles are readily available for shared use, usually in multiple, popular locations around a city. The EPA's assistance was in the form of public workshops conducted by EPA staff and consultants from Alta Planning + Design to solicit input and demonstrate the potential of Bike Share to create additional commuting options. This assistance also included an overview of Bike Share types, system development, and lessons learned in North America along with key concepts like feasibility, system planning, business plan development, operations, and health, safety, and social equity considerations. As a follow up to the public workshops and site visit, EPA and Alta Planning + Design consultants developed a memorandum with proposed strategies to guide implementation or expansion of Bike Share in Fort Collins. One of the proposed next steps was to establish a Bike Share task force to continue planning the next phase of Bike Share in Fort Collins. A Bike Share task force has been established and is meeting monthly.
For more information about the Bike Share Task Force, please email Amy Lewin at YWxld2luQGZjZ292LmNvbQ==. For general updates on Bike Share planning in Fort Collins, please sign up for the FC Bikes Momentum Newsletter here.
BIKE SHARE DEMOS WERE A SUCCESS!
Thanks to everyone who came to our demos of B-cycle and viaCycle in October 2012.
WHAT IS THE BIKE LIBRARY?
The Fort Collins Bike Library is a free bicycle sharing program through which you can check out a bike to ride and then bring back (like a library book!). Since 2008, our bike library checked out over 11,700 bikes. The bike library is one of many types of bicycle sharing systems. Local groups like Bike Fort Collins and the City's bicycling program FC Bikes were instrumental in creating the bike library.
PBIC releases comprehensive report on Bike Share Programs
The Pedestrian and Bicycle Information Center and Toole Design Group completed an independent, national study of current bike sharing programs in the United States. The study, "Bike Sharing in the United States: State of the Practice and Guide to Implementation," explores the evolution of bike sharing in the US, defines success factors, examines funding models, explains demographic and geographic trends affecting the implementation of programs, recommends a step-by-step approach for implementation in cities in the start-up phase, and discusses measures to increase demand and expansion of existing programs. Download the report now: Bike Sharing in The United States: State of the Practice and Guide to Implementation.
WHAT IS an ALTERNATIVES ANALYSIS?
The Fort Collins Bike Library is currently funded through 2012. Through this Fort Collins Bike Library Alternatives Analysis, we will determine the best way to move forward with the bike library and other potential bicycle sharing programs in Fort Collins.
WHAT IS INCLUDED IN THis Analysis?
understanding existing conditions
gathering community input
identifying and evaluating options for the future
making a recommendation
The survey's done, what's next?
Throughout March of 2012, we offered an online survey to gather your thoughts. Thanks to you, we received over 750 responses! We are currently analyzing the results and will incorporate them into the final report. Look for more opportunities to weigh in on the alternatives this spring.
CONTACT
Amy Lewin, Transportation Planner | 970-416-2040 | YWxld2luQGZjZ292LmNvbQ==