Emergency Weather Shelter Plan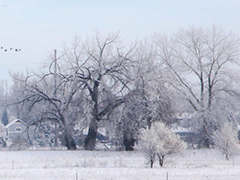 Now that winter has arrived, the City has its Emergency Weather Shelter Plan ready to assist community partners with more shelter capacity and transportation options when extreme weather events occur. The City first activated the plan because of severe cold temperatures the weekend of December 23.
Business Engagement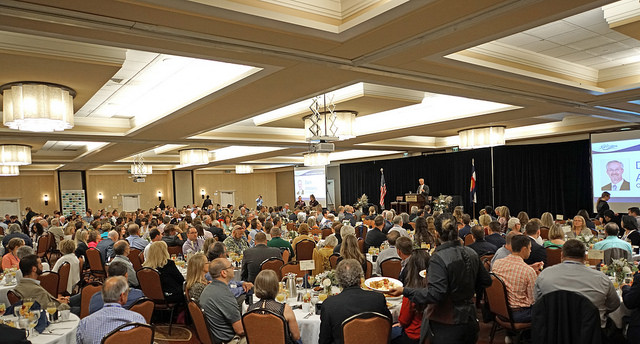 As part of the City's efforts to increase business engagement, the Economic Health Office recently conducted a survey of businesses that will help the City assess its level of service for the business community against other cities. The City received 560 survey responses. Results will be released in February.
Also, watch https://www.fcgov.com/business in January for the 2018 Targeted Industry Cluster funding application!
International Bloomberg Award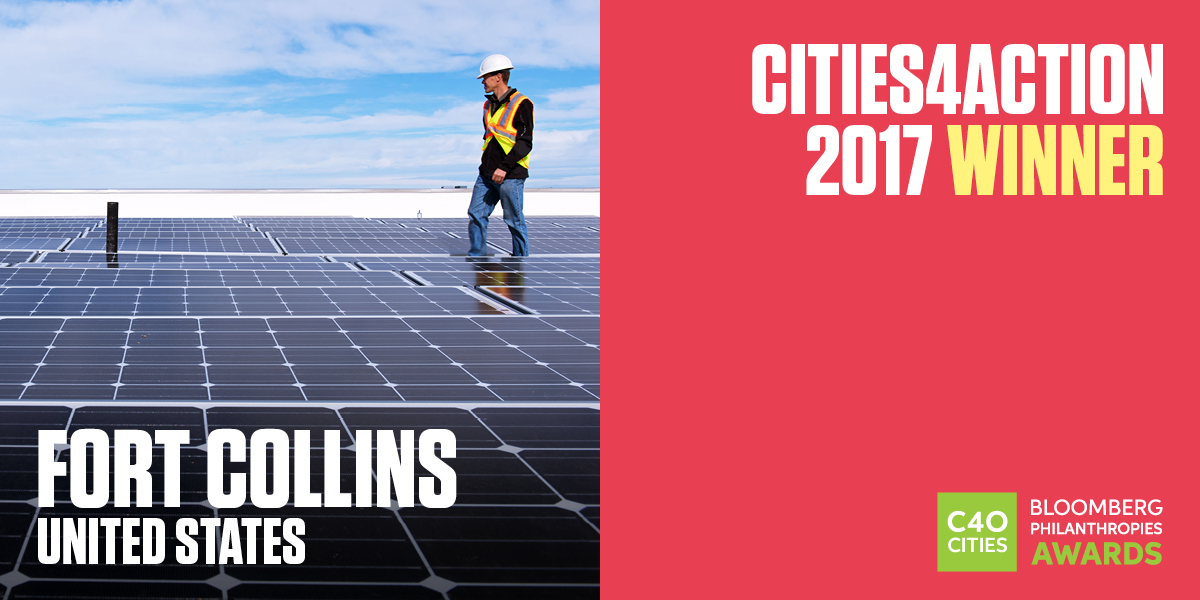 The C40 Cities Bloomberg Philanthropies Awards on December 5 named Fort Collins and Mexico City the winners of the Cities4Action Award for their Climate Action Plans as two of the "world's most inspiring and innovative cities tackling climate change." Fort Collins and San Diego were named the U.S. finalists in the Cities4Action category in October; Fort Collins was named the winner in Chicago at the North American Climate Summit in Chicago. Mexico City was named the international winner in the category. Mayor Wade Troxell also signed the Chicago Climate Charter, an international charter addressing climate change signed by mayors of 67 cities representing millions of people around the world.
Oil and Gas Regulations
The City of Fort Collins is seeking input on potential changes in regulations related to new residential and commercial development near oil and gas operations. Currently, the City's Land Use Code requires a buffer of 350 feet between all new land development and both active oil and gas operations and abandoned wells. The City would like to hear from community members about these code changes via an online survey and one-on-one conversations on January 2 and January 9. See details.
Christmas Tree Recycling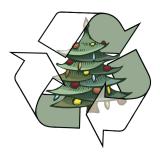 The City's annual free Christmas tree recycling program runs through January 15. Collected trees will be chipped on site and processed into wood mulch for residential use. All decorations must be removed from trees prior to drop-off to ensure contamination-free recycling. NO wreaths, ornaments, tinsel, hooks, nails, plastic bags, or artificial trees will be accepted. See drop-off locations and more information on holiday recycling.
Municipal Equality Index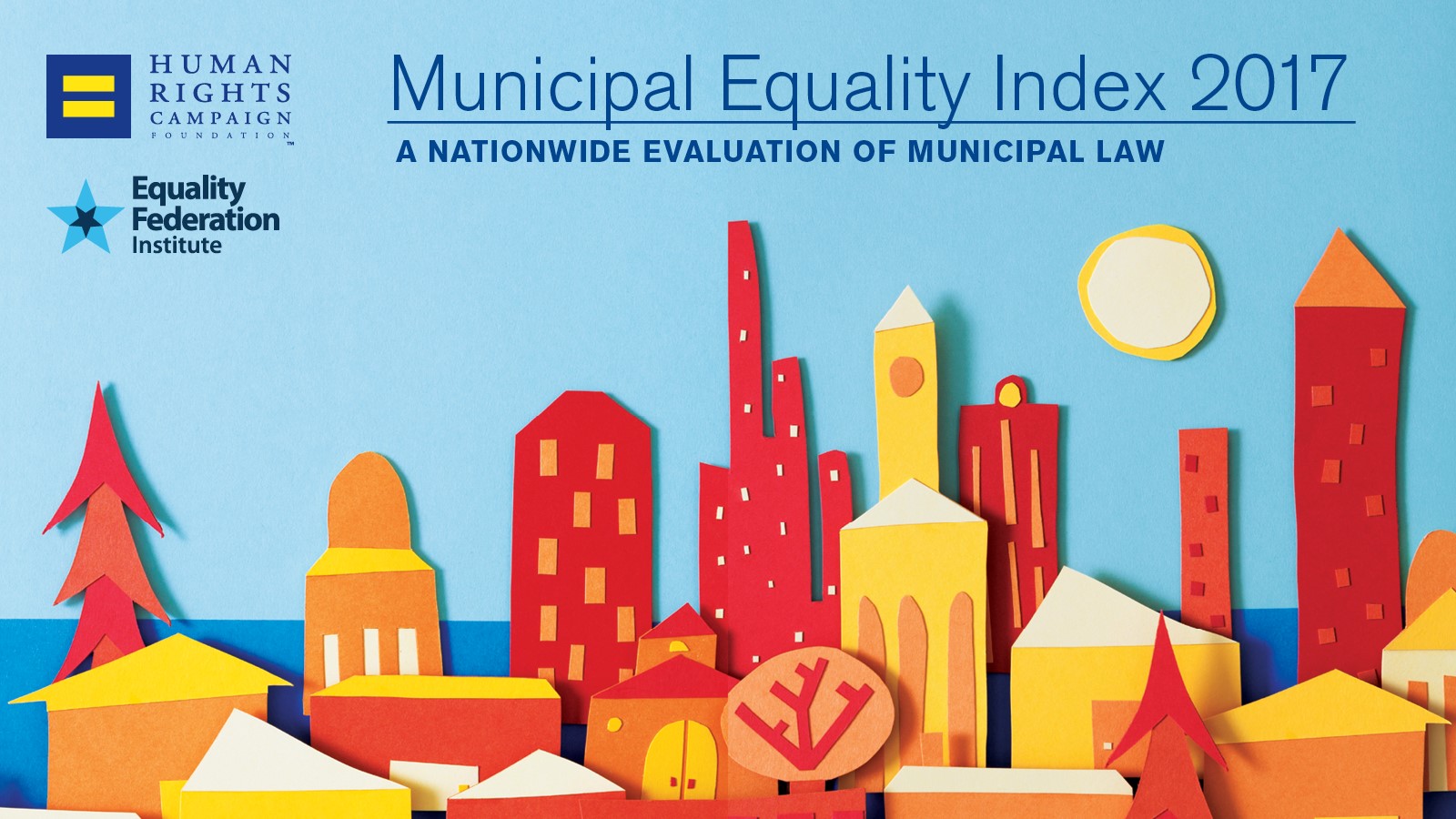 The Human Rights Campaign Foundation has once again increased the City of Fort Collins Municipal Equality Index rating because of its work on equity and diversity within the community and the municipal organization. The Human Rights Campaign Foundation increased Fort Collins rating to 78 out of 100 possible points. Fort Collins rose to 78 from 74 in 2016, up from 60 in 2015. Read more about the Index.
Human Relations Awards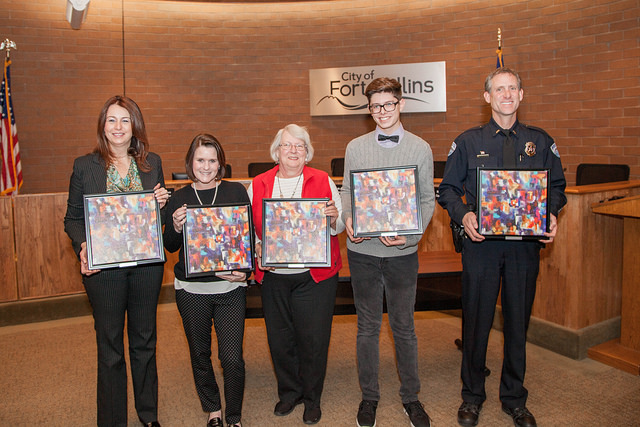 The Human Relations Commission has announced the recipients of the 2017 Human Relations Awards:
• Youth – Herman Chavez
• Adult – Dr. Janina Farinas
• Senior – Sue Ferguson
• Organization – ChildSafe
• Police and Emergency Services – Lt. Jeremy Yonce
See more about the awards and recipients.
Lose-A-Watt/Georgetown Prize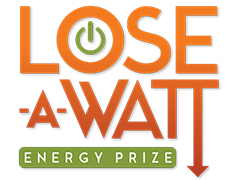 The City wound up in second place for the Georgetown University Energy Prize. Residents should be proud of this accomplishment – Fort Collins came in behind Fargo, N.D., out of 50 communities in the competition! Over two years, from 2014 through 2016, Fort Collins residents reduced their energy usage 5.4 percent, which is the equivalent of powering 9,800 homes for a year. The community accomplished the savings through a number of existing City programs that urged residents to "Lose-A-Watt."
Small Business Corner: The Cooking Studio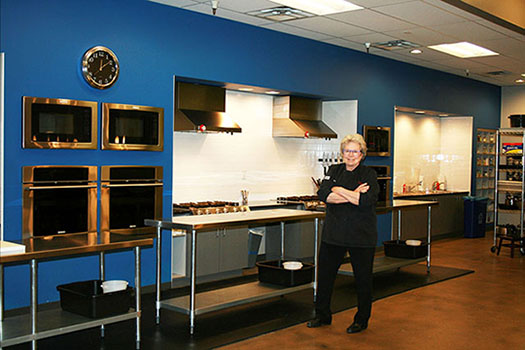 Fifteen years ago, Trish O'Neill took her first cooking class and she was hooked. She began cooking inspired meals from scratch and it soon became her passion. Over the next 15 years she travelled for her career, all the while taking cooking classes as a hobby while on her travels. This cultivated the idea that would eventually bring Trish and her talent to Fort Collins to open The Cooking Studio, a place for amateur cooks, corporate teams, kids, couples, and even aspiring bakers to learn, explore, and unleash their inner chef (Story courtesy of the Larimer Small Business Development Center).
Downtown Road Closure
Phase 3 of the Walnut Street Water & Sewer Rehabilitation Project begins Jan. 2 and will continue through March 2018. Utilities will abandon two old 4- and 6-inch waterlines in Walnut Street and install 500 feet of new 8-inch waterline from College Avenue to Linden Street. Two new fire hydrants will be installed and water services will be connected to the new line. Walnut Street between College Avenue and Linden Street will be closed to all traffic and parking during construction. Deliveries and residential access will be accommodated. Sidewalks will remain open at all times. Utilities is distributing 3,300 parking vouchers monthly, beginning at the end of December, in advance of the Jan. 2 road closure.
Etc.
The City has joined the Government Alliance on Race and Equity (GARE), a professional peer-to-peer network that helps local governments address racial inequities in their communities and organization through collaboration and information exchange. Fort Collins is the first Colorado jurisdiction to join….The Economic Health Office co-hosted an angel investor networking event with the Rockies Venture Club – Women's Investor Network (WIN) on December 6. The "Get to Know an Angel" event featured an informal conversation with entrepreneur and angel investor Christine Hudson.