Broadband


At its November 28 work session, Council asked staff to begin appropriating startup money and issuing initial RFPs for the voter-approved broadband measure. Council also began discussion on a governance model. The ballot approval gives the City the authority to provide high-speed broadband services to the community. It does not mean the City will immediately provide municipal retail broadband, or that a third-party internet service provider would offer the service. It gives City Council the legal authority to provide broadband services if it so chooses. For more information, go to fcgov.com/broadband.
Platte River Net Zero Report

Platte River Power Authority will host a series of community discussions regarding a study of its energy resources and the feasibility and production costs to pursue a zero net carbon resource scenario. Meetings are scheduled throughout the four communities that Platte River serves, including Fort Collins. Two meetings are scheduled in Fort Collins: A town hall meeting with all communities at 3 p.m. at the Fort Collins Hilton, 425 W. Prospect, and a Fort Collins Town Hall meeting at 6 p.m. at 222 Laporte Ave., in the Colorado Room. More information at https://www.prpa.org/znc/.
Small Business Saturday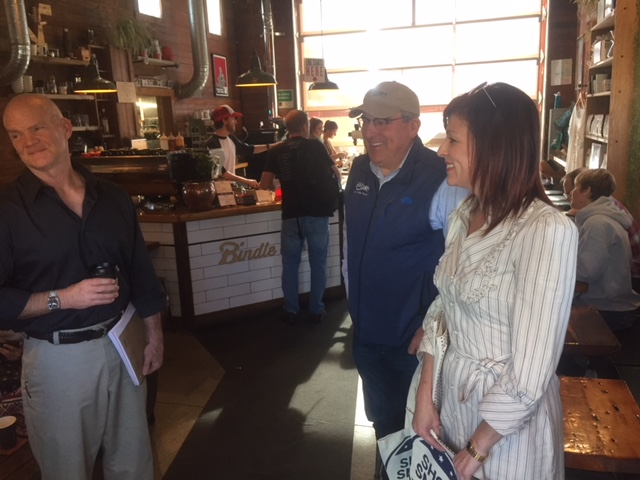 Mayor Wade Troxell helped celebrate Small Business Saturday, the day after Black Friday, with a proclamation and visits to small Fort Collins businesses. At the November 21 City Council meeting, Troxell presented the Small Business Saturday proclamation to Jerell and Elissa Klaver, owners of Salus, a natural bath and body care company Downtown. On Friday, November 24, Troxell visited shops in the Jessup Farm Artisan Village with Small Business Association Colorado District Director Frances Padilla and Larimer County Small Business Development Center Director Mike O'Connell. Visited businesses included Bindle, a coffee shop owned by Andrew Webb, and HEYDAY and Knapsack, owned by Jennifer Little, among others.
Georgetown Energy Prize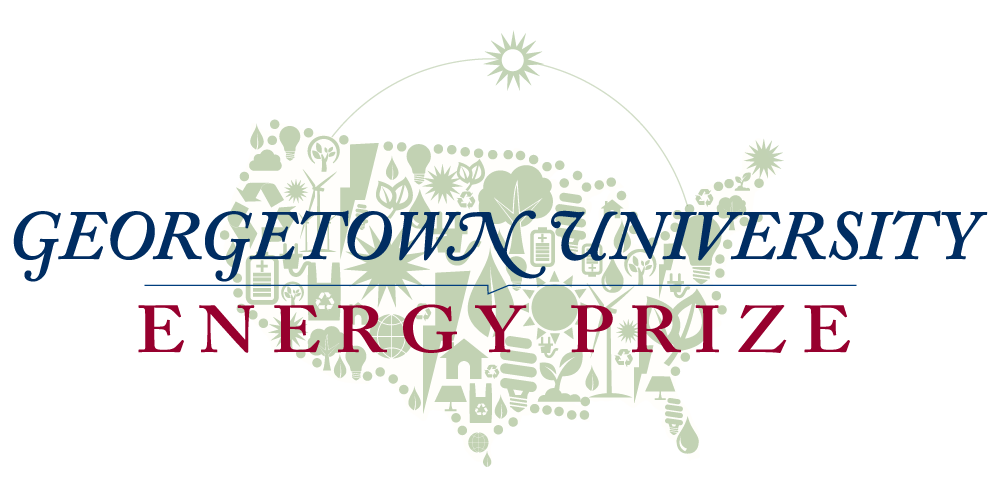 Fort Collins ranks fifth in the Georgetown University Energy Prize competition after residents reduced overall energy use 5.4 percent – enough to power 9,800 homes for one year, Georgetown University announced Tuesday. The community now advances with nine other cities to the final round of the national contest, which challenged small- and medium-sized cities and counties to reduce energy consumption and increase efficiency in 2015 and 2016. A winner is expected to be announced in December.
Holiday Recycling


From Thanksgiving to New Year's Day, household waste increases by more than 25%, adding an additional one million tons of waste to America's landfills each week. See tips on how to reduce your holiday waste.
Climate Action Plan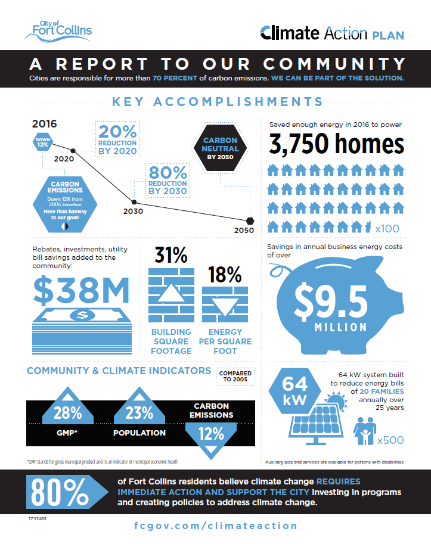 Fort Collins residents and businesses are making huge strides in reducing our communities' carbon emissions. See how we're doing.
Small Business Corner: Spring Back Colorado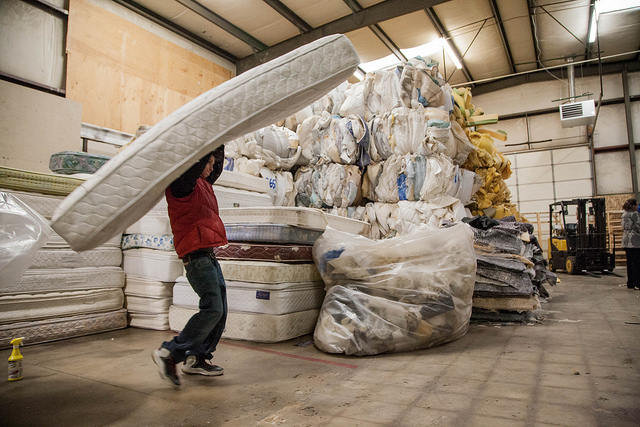 Christopher Conway had his "aha" moment about homelessness in 2006. In his former career as a custom home builder in Boulder, he was seeking greater fulfillment and signed up to volunteer at the Denver Rescue Mission. He realized he could be integral in helping members of the disenfranchised community get back on their feet. Read more about the company's presence in Fort Collins.
Winter Emergency Shelter
Last winter, community partners including the City's Social Sustainability department, piloted a program called Safe Place to Rest, which developed community-based sheltering sites and a volunteer base. Safe Place to Rest and other programs are part of the community's efforts to ensure that emergency shelter is provided to people during the winter months. Also assisting with that effort is Outreach Fort Collins, which works to connect people with the services they need. The City is a sponsoring partner in Outreach Fort Collins. Read more about Outreach Fort Collins at https://www.outreachfortcollins.org/.
Land Bank
The Affordable Housing Board will take public comment on proposed changes to the City's Land Bank policies at its regular meeting at 4 p.m. December 7 in the Community Room of 215 N. Mason. The City has recently activated its Land Bank program, which currently consists of five parcels set aside for affordable housing.
Etc.
The final phase of the Walnut Street Water and Sewer infrastructure rehabilitation project will begin January 2. From January through March, Utilities will abandon two old water lines in Walnut Street and install 550 feet of new waterline. Walnut Street will be closed from College Avenue to Linden Street during construction. Pedestrian access to businesses will remain open at all times. Project updates at www.fcgov.com/walnut-street-project. ... U.S. Commerce Secretary Wilbur Ross in November named the City of Fort Collins a recipient of the Malcolm Baldrige National Quality Award, marking a significant milestone in the City's ongoing journey to provide world-class municipal services… The City's Human Relations Commission will present Human Relations Awards December 5 followed by a Mayoral proclamation on Human Rights Day at 5:30 p.m. in City Council Chambers, 300 LaPorte Ave. On December 6, the HRC will host FoCo Speaks Out! starting at 6 p.m. at Bas Bleu Theatre, 401 Pine St.