Innovate Fort Collins


What are your ideas for how the community can reach its climate action goals for 2020 and beyond? In early April, the City will announce a new competition to fund innovative pilot projects that target specific goals to reduce carbon emissions. Sign up for the Innovate Fort Collins newsletter for updates.
Homelessness Resource Guide
The Homeless Resource Guide provides a list and map of resources available including: shelters, meals, warming centers, healthcare, employment, etc. See more resources.
Colorado Companies to Watch
Five Fort Collins firms have been named finalists as Colorado Companies to Watch – a program sponsored by the Colorado Office of Economic Development and International Trade. The state launched the program in 2009 in conjunction with the Edward Lowe Foundation and valuable sponsors and community partners, including the City of Fort Collins Economic Health Office.
Glass Recycling
More glass in the City's single-stream recycling program is getting recycled because of a new processing plant on the Front Range that makes it possible for glass-to-glass recycling. You may recycle glass bottles and jars in your household or business' curbside single-stream recycling program, mixed with your other recyclables. Read more.
Election Sign Recycling
Election signs that are made of paperboard (single-layer cardboard) can be separated from the metal wicket and placed in a household or business recycling bin.

Plastic sleeve-style signs can be recycled at the Timberline Recycling Center.

Plastic-sleeve signs may also be accepted in the plastic-bag recycling barrels at grocery stores/big-box retailers.

Metal sign "wickets" can be recycled at local scrap metal companies, or taken to the "backyard" area (for a small fee) at the TRC.
Curbside Yard Pickup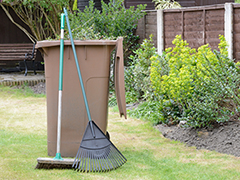 Starting in April, single-family residents have the option to pay for yard trimmings collection at the curb. All three residential trash haulers now offer this service from April to November for an additional fee as part of the City's updated recycling ordinance. Read more.
Land Bank
About 90 residents attended the City's briefings on the Land Bank program, a long-term affordable housing tool. The program allows the City to strategically buy vacant sites lacking infrastructure and wait until nearby development occurs and land value has increased before selling to a developer. What should the Land Bank program look like in the future? Stay tuned : Staff will gather additional public input at a workshop later this year.
Etc.
EnvirOvation April 20
April 20, 3-5 p.m., Drake Centre, 802 W. Drake Road. Celebrate the 2016 achievements of ClimateWise Partners and find out how your business can join ClimateWise in leading the way to reduce greenhouse gas emissions for the Fort Collins business community.
NoCO Manufacturing Trade Show April 27
The NoCO Manufacturing Partnership, which includes the City of Fort Collins, will host the NOCOM 2017 Manufacturing Trade Show on April 27. Register at http://www.nocomfg.com/.