What's a Land Bank?
What is a Land Bank? Why does the City have one? How will it be used and what policy changes are being considered? Come learn about the Land Bank, a long-term affordable housing tool, at one of three meetings:

March 13: 1-2 p.m., Council Tree Library, 2733 Council Tree Ave., #200

March 20: 9:30-10:30 a.m. Old Town Library, 201 Peterson St.

March 27: 7:30-8:30 p.m. Foothills Activity Center, 241 E. Foothills Parkway.
Questions? Contact Sue Beck-Ferkiss at sbeckferkiss@fcgov.com or 970.221.6753.
Seasonal Overflow Shelters
Homelessness in the winter can present life-threatening challenges for individuals, so existing shelters provided by non-profit organizations expand to create more capacity along with Safe Place to Rest, which develops community-based sheltering sites and a volunteer base under one community-wide program umbrella. The community now offers remote seasonal overflow shelters nightly through the end of April 2017.
Plastic Bag Recycling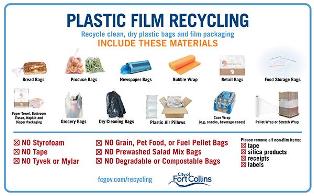 Plastic bags and plastic-film packaging are now being accepted at the new Timberline Recycling Center. See what's acceptable. The City is extending its #mytrc social media contest: First and second place winners get $25 Downtown gift cards and the next three winners get a $5 voucher to use the hard-to-recycle yard. Post a picture of you recycling at the TRC on Twitter, Facebook or Instagram with the hashtag #myTRC and you'll be entered into the drawing! Go to www.fcgov.com/recycling for contest rules.
Lawnmower Rebates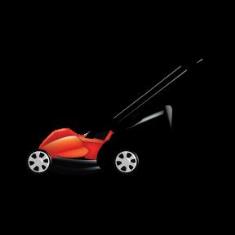 From May 1 – July 31, 2017, the City will offer residents up to $50 in rebates for purchasing "clean" lawn and garden equipment from participating local retailers, hiring a clean lawn service, or purchasing a "clean" lawnmower and recycling a gas lawnmower. Online purchases are not eligible. The maximum rebate is $50 per applicant; each piece of equipment must be $99 or more, not a combined total. See the rules.
EPA Grants Available
The U.S. Environmental Protection Agency awarded a $500,000 grant to the City to conduct environmental assessments in north Fort Collins in support of redevelopment activity. Businesses, property owners, developers and others interested in obtaining an assessment at no charge may contact the project manager, Bonnie Pierce, at 970-416-4255 or bpierce@fcgov.com. The assessments may provide valuable environmental liability protection.
About Talent 2.0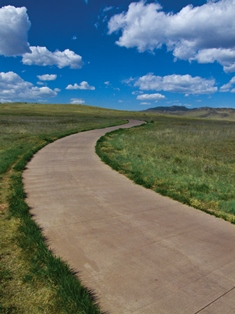 In 2014, the City evaluated current workforce and future needs as an essential part of a healthy economy. That effort has grown to a regional level: In 2017, the City will participate in a Talent 2.0 Regional Action Plan to address access, alignment and barriers to developing the first regional workforce action plan. Talent development is a team sport that requires public, private and educational institutions to work collaboratively to be successful. See the presentation from the February rollout.
Road to 2020: Community Solar
Watch a one-minute video about the Fort Collins Community Solar site - a pilot program providing additional renewable energy options for Utilities customers who want the benefits of solar ownership without the research, construction and maintenance of a stand-alone system.