Recycle that Christmas Tree Starting December 26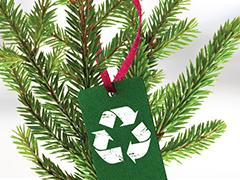 The City of Fort Collins annual Christmas tree recycling program begins December 26 and runs through January 16. Recycling Christmas trees helps reduce waste. Real trees are 100% biodegradable which means they can be recycled and turned into mulch.
Collected trees will be chipped on site and processed into wood mulch for residential use. All decorations must be removed from trees prior to drop-off to ensure contamination-free recycling. NO wreaths, ornaments, tinsel, hooks, nails, plastic bags, or artificial trees will be accepted.
Drop off sites include:
Edora Park, 1420 E. Stuart St. (Tennis court parking lot)

Rolland Moore Park, 2201 S. Shields St. (Southeast corner of the parking lot)

Fort Collins Streets Facility, 625 Ninth St. (Southwest corner of Vine Drive and Lemay Avenue)

Fossil Creek Park, 5821 S. Lemay Ave. (enter from Lemay Avenue)

Wellington Recycling Drop-Off Site, Town Garage (Corner of Sixth Street and Grant Avenue)

Larimer County Landfill, 5887 S. Taft Hill Road (Mon.-Sat., 8 a.m.-4 p.m.)
CSU Study: Foothills Diverted 76,000 Tons of Waste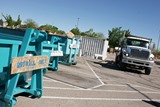 The Foothills shopping mall redevelopment resulted in diverting more than 76,000 tons of waste from the landfill, according to an independent report by the Institute for the Built Environment at Colorado State University.
The project diverted 100 percent by weight of all concrete, rock, asphalt, dirt, bricks and metal that weren't considered hazardous materials and 70 percent by weight of all other materials such as wood/lumber or cardboard. The full report is available here.
The remaining 29,000 tons that went to the landfill were either contaminated by hazardous materials such as asbestos or could not be reused or recycled.
The mall's carbon footprint at full capacity is 5 percent lower than the existing mall under thriving conditions, according to the report and analysis by The Brendle Group. The Institute for the Built Environment reported that construction and demolition activities account for 16 percent of the waste in the Larimer County Landfill.
The report also states that the carbon footprint of the mall – including operations - is 36 percent lower as a redevelopment than as a new project on a "greenfield" or vacant site on the edge of the community.
"Redevelopment of an existing property is more sustainable and helps the community reuse and recycle land, which results in the community growing up and not out," said Josh Birks, director of the City's Economic Health Office which oversees the Fort Collins Renewal Authority.
Extreme Cold Weather Shelter Planning
As part of a community collective plan, City staff worked with community partners during the extreme weather that occurred in Fort Collins December 16-18, 2017, to ensure people experiencing homelessness had a place to stay during extremely cold weather. Coordination occurred with the shelters, Salvation Army and community churches/warming centers during the week prior to the storm. Everyone who sought shelter was provided for and had a place to come in from the cold.
Activation of the Severe Weather Emergency Shelter Plan is triggered by a National Weather Service winter weather warning, wind chill advisory and/or sub-zero temperatures. The City's Office of Emergency Management provides weather advisories and consultation to City management in making the determination. The activation enabled City staff to work with community partners to assist with transportation between shelters and warming centers and to have an on-call park ranger overnight to transport people to additional shelter.
Wasteshed Discussion at City Council January 3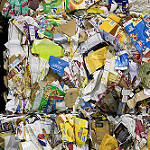 The City of Fort Collins is participating in a Regional Wasteshed Planning Coalition to address the future of solid waste management in light of the upcoming Larimer County landfill closure, expected around 2025. City staff will summarize work to date and present next steps to City Council at a regular hearing in City Hall on January 3.
The term "wasteshed" is used to describe an area that shares common rules and means for handling waste. The regional wasteshed of Colorado's north Front Range is an area in and around Larimer and Weld Counties.
About 60 percent of the solid waste that is collected as garbage and disposed of at the Larimer County Landfill is comprised of recyclables, organics and mixed construction and demolition materials that could be diverted from landfill disposal and recovered for other purposes. Future amounts of solid waste generated and handled in the wasteshed are projected to increase significantly, in proportion to projected population growth.
A preliminary Regional Wasteshed Planning Study was conducted in 2016 to better understand how the region handles waste now and what opportunities and challenges exist in the future.
Phase 2 of the project in 2017 will include careful analysis of the environmental, economic, and social impacts of feasible options for future infrastructure to manage garbage and recycling and encourage greater resource recovery.
Rockies Venture Club Startup City Award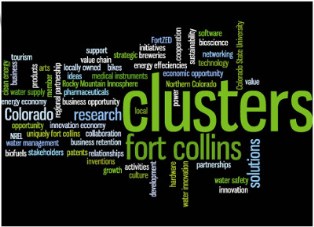 The Rockies Venture Club this fall awarded the City of Fort Collins the Up and Coming Startup City Award for 2016 as an effort to honor cities that "play a critical part in creating a vibrant startup environment"
"Many people think of Colorado's startup community as being primarily Boulder and Denver based," according to the award description. "Each year we highlight one community that has established itself over the last year; showing significant promise for the future as high-level startup ecosystem."
In their presentation, representatives from Rockies Venture Club specifically recognized Fort Collins for supporting entrepreneurial and investment programming in Northern Colorado, recent accolades related to innovation and technology startup activity, and for the City's Industry Cluster program, which allows for targeted support and supply-chain enhancements.
Utilities Awards Woodward Rebate; Funding Available
Fort Collins Utilities presented a $329,500 rebate check to Woodward, Inc., Dec. 15 for incorporating energy efficiency into the construction of the new 306,000 square foot Industrial Turbomachinery Systems (ITS) facility.

The check was presented on behalf of Utilities' Integrated Design Assistance Program (IDAP), which offers financial incentives and no-cost technical support for energy-efficient design in commercial new construction and major renovation projects.

Additional funds are still available for local building owners and design teams who wish to participate.
Funding Provided to Habitat for Humanity Homes



On December 19, Fort Collins Habitat for Humanity purchased the first 20 lots for new home construction in the Harmony Cottages community on the corner of Harmony and Taft Hill Road. The City of Fort Collins provided $480,000 in HOME and CDBG funding for acquisition and development costs for 12 homes. When completed, this community will provide homeownership for 48 low and moderate income households.
Nature in the City Recognized as Success Story
The City of Fort Collins' Nature in the City program was selected through an internationally competitive process to be featured as a Success Story on NatureForAll's website. The NatureForAll movement is meant to inspire the love and conservation of nature.