Linden Street
Utilities Improvements
The City of Fort Collins Utilities Department Linden Street Improvement Project was a rehabilitation and construction project of the water, sewer, and storm water (wet utilities) in Linden Street between Jefferson Avenue (on the southwest end) and the Poudre River bridge (on the northeast end). Water, sewer, and storm water pipelines were redesigned and reconstructed to ensure existing and future needs were met in the Downtown River District area. Construction for the wet utilities began on February 14 and was completed in May 2011.
Streetscaping
The Linden Street Streetscaping Project, from Jefferson to the Poudre River, was the first project to be implemented from the 2008 Downtown River District Plan which has the goal of creating a new sense of place by making the area welcoming, visually pleasing and ready for infill development.
Planned improvements included curb and gutter, on-street parking, bike lanes, sidewalks, intersection improvements and streetscaping. Pedestrian street lights, benches, bike racks and flower pots were included in the streetscaping. Elements that acknowledge and celebrate the importance of the area to the history of Fort Collins were integrated into the streetscaping and landscaped areas of the project.
Total project budget was approximately $3 million and included funds from multiple sources including Federal grant dollars, utility funds, the Downtown Development Authority, and Building on Basics Pedestrian capital funds. The Streetscaping project was completed in December 2011.
Project Contacts
Dean Klingner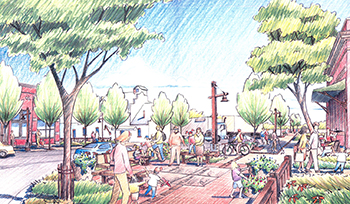 Civil Engineer
City of Fort Collins, Engineering
970-221-6511, ZGtsaW5nbmVyQGZjZ292LmNvbQ==
Mark Laken
Civil Engineer
City of Fort Collins, Engineering
970-222-3546, bWxha2VuQGZjZ292LmNvbQ==