Contact Information
Area Manager
Supervisor
Northside Aztlan Community Center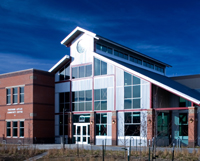 Northside Aztlan Community Center is a fitness and events facility that is also home to a wide variety of activities, classes, programs, sports, and special events.
Hours:
Monday-Friday :

6 a.m.-9 p.m.

Saturday :

8 a.m.-5 p.m.

Sunday :

9 a.m.-5 p.m.
Features:
50,000 square foot facility
Cardio/weight room
Classrooms
Elevated running track
Kitchen
Lighted skate park
Locker rooms
Multi-purpose rooms
Outdoor handball courts
Playground
Triple gymnasium
Drop-In and Open Gym Schedule
News/Events
Special Hours and Closures
Special Hours:

Easter Eve - Facilities close at 5 p.m.
Thanksgiving Eve - Facilities close at 5 p.m.
Facility Closures:
New Years Eve
New Years Day
Easter Day
Memorial Day
4th of July
Labor Day
Thanksgiving
Christmas Eve
Christmas
Youth Nights
Thursdays from 3-9 p.m., Free
Ages: 12-18
Free night of drop-ins for those between the age of 12 and 18.
Senior VOA Meals
Tuesdays, Wednesdays, and Thursdays starting at Noon, Suggested Donation: $2.50
Senior nutrition is a service of Volunteers of America in cooperation with the City of Fort Collins Recreation Department. A hot lunch is provided. Call 970.472.9630 for more information.
Northside Aztlan Community Center Advisory Council
Our Mission
Northside Aztlan Community Center Advisory Council's mission is to ensure the success of Northside Aztlan Community Center by advocating for accessibility, effective programming and multicultural inclusion. The Council's role includes, in part, advocating, supporting and promoting Northside Aztlan Center and providing advice on issues that will impact positive growth and programming for Northside Aztlan Center.

The Council meets regularly, the 3rd Wednesday of each month at 6:30 p.m. at Northside Aztlan Center. All meetings are open to the public, however we recommend contacting the Chair if you plan to attend in case the meeting location has changed. We welcome any input you may have and look forward to our working relationship with all who are interested in our mission.

If you are interested in serving as a member of the Council, we encourage you to apply. As there is no set deadline, we accept completed applications at any time. You may submit your applications in person, via e-mail, or mail to the addresses listed below.

For more information you may contact the Aaron Harris, via e-mail at YWhhcnJpc0BmY2dvdi5jb20=. You may also contact Northside Aztlan Center Advisory Council via mail:
Northside Aztlan Community Center Advisory Council
Northside Aztlan Community Center
112 East Willow, Fort Collins, CO 80524

Click here to download the application for the Northside Aztlan Center Advisory Council.