Contact Information
Dept Head: Interim Chief Terry Jones
PO Box 580, Fort Collins, CO 80522-0580
Police Seek Information
Contact Information
Rita Davis
Fort Collins Police Services
970-221-6628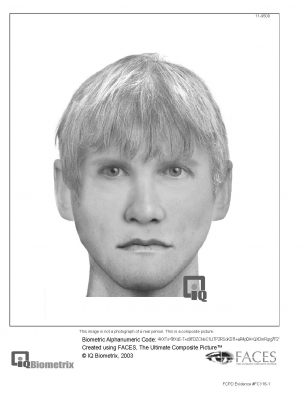 Fort Collins police are investigating the report of an alleged sexual assault that occurred June 28 around 10 p.m. near the railroad tracks behind the businesses in the 2400 block of S. College Avenue. According to the 30 year-old victim, she had left Mulligan's Pub to walk home when a man outside approached her. They agreed to walk towards the railroad tracks where they conversed for a while. The suspect asked her to perform a sex act and when she refused he inappropriately touched her before leaving the area on a dark colored Schwinn women's mountain bike.
The victim met yesterday afternoon with investigators to complete the attached composite drawing of the suspect.
The suspect is described as 19 year-old white male with blond hair, blue eyes, 5'8" to 5'10" tall, and approximately 165 to 185 pounds. He was last seen wearing a black t-shirt, khaki shorts and was carrying a dark and tan backpack with snaps on the outside.
Anyone with information about this incident is asked to contact Detective Jaclyn Shaklee at 970-221-6575 or Crime Stoppers of Larimer County at 970-221-6868. Crime Stoppers may also be reached through their Web site at
www.stopcriminals.org
.