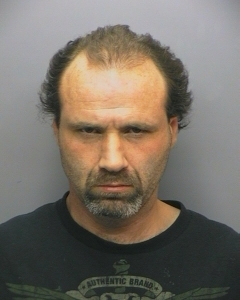 Fort Collins police have arrested 38 year-old Herbert Daily (D.O.B. 12-19-72) for the February 8 sexual assault of a 20 year-old female in her home in the 600 block of Remington Street. Daily, a transient, was contacted by police early this morning in the 700 block of S. College Avenue after an officer patrolling the area stop him for a bicycle violation and realized he matched the description of the sex assault suspect. Daily, a registered sex offender, was transported to the Larimer County Detention Center on charges of possession of a controlled substance (F6) and sexual assault (F2). A copy of this booking photograph is attached.
Original Press Release
For Immediate Release
February 8, 2011
Police Investigate Report of Sexual Assault
Fort Collins police are investigating the report that a 20-year-old female was sexually assaulted Tuesday morning in her home in the 600 block of Remington Street.
Police were notified of the assault at approximately 7:10 a.m. by hospital personnel after the woman went to the hospital to be checked out. According to the victim, the suspect entered her apartment through an unlocked front door and entered her bedroom around 5:30 a.m. The victim was awakened by the unknown man who sexually assaulted her before leaving the residence through the front door. The suspected claimed to have a weapon although none was seen.
The suspect is described as a stocky white male, in his 40's, 5'10' tall, weighing approximately 200 pounds with curly brown hair and a receding hairline. The suspect was wearing a dark jacket and blue jeans. A copy of a composite drawing is attached.
Police are continuing to investigate the report and ask community members to use personal safety skills, to keep their doors locked and windows secured, be aware of activities in your neighborhood and report any suspicious persons or activities to the police. Further information regarding crime prevention tips is available on the Fort Collins Police Services website at
http://www.fcgov.com/police/personal-safety.php
.
Anyone with information about this incident is asked to contact Fort Collins Detective Tammy Tracy at 970-221-6582 or Crime Stoppers of Larimer County at 221-6868. Crime Stoppers may also be reached through their website at
www.stopcriminals.org
.