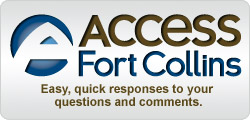 Planning & Development Review
About Us
We help create and enhance a vibrant, world-class community, by supporting efforts that define and realize our community's aspirations. We connect people, places, and services through innovative planning, partnerships, and forums for effective community engagement.
We prepare and manage City Plan, Fort Collins' comprehensive plan. We also prepare and manage City Plan's related subarea and corridor plans, and other special projects involving growth management, land use and urban design. Additionally, we collect and analyze a variety of data (land use, demographic, housing etc.) for use in monitoring plan progress and policy making.
We are also a "one-stop shop" for all of your development needs and your project planners for the development review process. We provide information and advice on land use, urban design, and choosing the most appropriate review process for each project while adhereing to the policies in our Land Use Code.
Staff