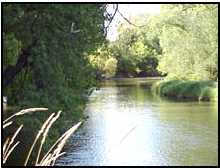 Since June 2000, the Poudre River Boat Chute has provided a navigable passage for paddlers near the old Fort Collins power plant just east of the North College Bridge. The intricate placement of boulders has channeled the river's flow into a water chute that allows for an aesthetically pleasing structure that is friendly to recreational paddlers.
The $300,000 project was made possible, in part, by proceeds from the Colorado Lottery. The City of Fort Collins Parks and Recreation Department won the 2000 Lottery Starbucks Award for innovative use of lottery proceeds for the project.
In 1994, the City of Fort Collins won an unprecedented water rights case from the Colorado Water Court to control the flow of water within a channel of the river for recreational purposes to create the chute.
The boat chute provides improved safety for river craft using the Poudre River in the downtown area of Fort Collins.
To improve boating opportunities, the chute was expanded in 1999. The water craft community is currently raising funds for additional improvements in this area.