Press Releases
Prospect Road Construction Closure
Contact Information
Tom Knostman, Pavement Engineer
City of Fort Collins
970-416-6576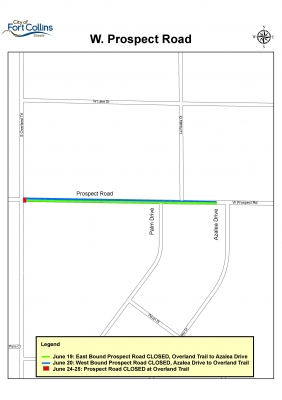 dGtub3N0bWFuQGZjZ292LmNvbQ== alt="image for press release Prospect Road Construction Closure" class="pull-left img-responsive img-thumbnail" style="margin:0 20px 20px 0" /> Prospect Road from Overland Trail to Azalea Drive has been selected for maintenance as part of the City of Fort Collins 2013 Street Maintenance Program. Beginning June 19, the Streets Department will begin street maintenance repairs including an asphalt overlay. Closures will occur in phases as noted below:
• June 19: East Bound Prospect Road CLOSED, Overland Trail to Azalea Drive; Palm Drive CLOSED at Prospect Road
• June 20: West Bound Prospect Road CLOSED, Azalea Drive to Overland Trail; La Reatta Court CLOSED at Prospect Road
• June 24-25: Prospect Road CLOSED at Overland Trail
Project dates are estimates based on favorable conditions; variances may occur due to weather or other unforeseen circumstances.
Work Zone Information
Typical working hours are weekdays from 7:00 a.m. to 6:00 p.m., however work may occur outside these times or on the weekends to expedite the work. Road closures will be utilized. Alternate routes are suggested to avoid the construction zones. Detour routes include Overland Trail, Drake Road, Taft Hill Road, and Elizabeth Street.
For more information about the Street Maintenance Program, and to sign up for project updates via email, please visit
fcgov.com/smp
.
###