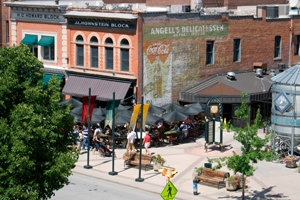 a21jd2lsbGlhbXNAZmNnb3YuY29t alt="image for press release City Garners State Award for Preservation of Downtown's Coca-Cola Sign" class="pull-left img-responsive img-thumbnail" style="margin:0 20px 20px 0" /> The City of Fort Collins will receive its eighth Stephen H. Hart Award in recognition for its restoration efforts of Downtown's Coca-Cola ghost sign. The Coca-Cola/Angell's Delicatessen sign is located on the east wall of the J.L. Hohnstein Block at 220 East Mountain Avenue, adding historic charm to CooperSmith's Pub & Brewing's patio.
The Stephen H. Hart award is given by the Board of Directors of History Colorado (formerly the Colorado Historical Society) and recognizes outstanding projects and individual achievements in historic preservation throughout Colorado. From a select group of awardees, one exceptional project is chosen each year to receive the Governor's Award for Historic Preservation. In addition to the City, property owner Ed Stoner, preservationist Carol Tunner and painting conservator Deborah Uhl will be recognized for their efforts. The work included comprehensive documentation of the sign, paint and mortar analysis, brick repointing, and, prior to restoration, exhaustive research into paints, consolidates, and coatings.
The sign was originally painted in 1958 by local sign painter Dan Brown, who was paid $400 for his work. In 1958, the tenants of the building were Mary and Jess Angell, who operated a deli at this location through the 1960s. As was common practice, the Coca-Cola Company agreed to paint the name of their business, "Angell's Delicatessen," in the sign in exchange for the privilege of advertising their product on the building's wall.
Previous preservation awards include the restoration of the trolley and trolley system, restoration of the old waterworks building on Overland Trail, and for the Taco Bell at the corner of College and Prospect. For more information about the City's preservation efforts, visit
fcgov.com/historicpreservation
.