Press Releases
East Elizabeth Street Construction Beginning August 19
Contact Information
Darren Moritz, Street Maintenance Program Manager
City of Fort Collins
970-556-1495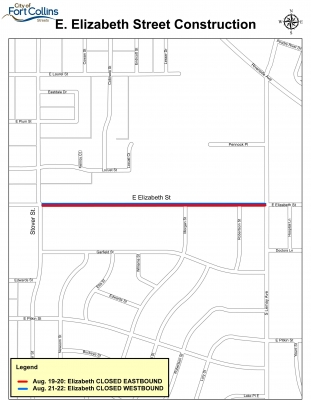 ZG1vcml0ekBmY2dvdi5jb20= alt="image for press release East Elizabeth Street Construction Beginning August 19" class="pull-left img-responsive img-thumbnail" style="margin:0 20px 20px 0" /> The City of Fort Collins Streets Department is scheduled to complete asphalt paving on East Elizabeth Street from Lemay Avenue to Stover Street as part of the 2013 Street Maintenance Program. Closures will be required to complete the work beginning August 19 through August 22. One half of the road will be closed at a time to minimize impacts to businesses and residents. Please note the construction schedule below:
• August 19-20: East Elizabeth Street CLOSED EASTBOUND, Stover Street to Lemay Ave.
• August 21-22: East Elizabeth Street CLOSED WESTBOUND, Lemay Avenue to Stover Street
Project dates are estimates based on favorable conditions; variances may occur due to weather or other unforeseen circumstances.
Work Zone Information
Typical working hours are weekdays from 7:00 a.m. to 6:00 p.m.; however, work may occur outside these times or on the weekends to expedite the work. Road closures will be utilized. Alternate routes are suggested to avoid the construction zones. Detour routes include Pitkin Street, Stover Street, and Lemay Avenue.
Thank you in advance for your patience. For more information about the Street Maintenance Program, and to sign up for project updates via email, please visit
fcgov.com/smp
.
###