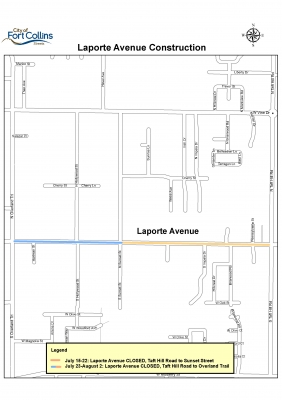 ZG1vcml0ekBmY2dvdi5jb20= alt="image for press release Laporte Avenue Closed Beginning July 15" class="pull-left img-responsive img-thumbnail" style="margin:0 20px 20px 0" /> Laporte Avenue from Taft Hill Road to Overland Trail has been selected for maintenance as part of the City of Fort Collins 2013 Street Maintenance Program. Road reconstruction and paving will begin the week of July 15 and last approximately 2-3 weeks. Laporte Avenue from Taft Hill Road to Overland Trail will be fully CLOSED during both operations and will reopen in approximately 2-3 weeks.
Project dates are estimates based on favorable conditions; variances may occur due to weather or other unforeseen circumstances.
Work Zone Information
Typical working hours are weekdays from 7:00 a.m. to 6:00 p.m.; however, work may occur outside these times or on the weekends to expedite the work. Road closures will be utilized. Alternate routes are suggested to avoid the construction zones. Detour routes include Overland Trail, Mulberry Street, Taft Hill Road and Vine Drive.
Thank you in advance for your patience. For more information about the Street Maintenance Program, and to sign up for project updates via email, please visit
fcgov.com/smp
.