Press Releases
Harmony Road at UPRR Closed for Construction
Contact Information
Denise White | Public Relations Coordinator
City of Fort Collins | Planning, Development & Transportation
PO Box 580 | Fort Collins, CO 80522-0580
970-416-2303 | ZHdoaXRlQGZjZ292LmNvbQ==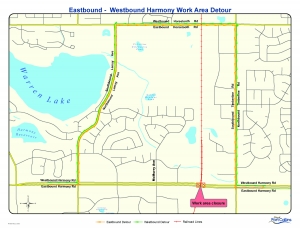 ZHdoaXRlQGZjZ292LmNvbQ== alt="image for press release Harmony Road at UPRR Closed for Construction" class="pull-left img-responsive img-thumbnail" style="margin:0 20px 20px 0" /> Harmony Road will be closed between McMurry Avenue and Timberline Road at the Union Pacific Railroad Crossing for construction starting at 9 p.m., Friday, May 31, 2013. The closure is scheduled to run through June 4 as surface crews replace crossing rails and ties; City crews will finish and stripe the road.
Access to businesses will be maintained at all times. Work is being done on the weekend and crews will work 12-hour days to minimize disruption to the traveling public.
Road closures will be required to complete the work and detours will be implemented. Eastbound traffic will be detoured north onto Lemay Avenue, east on Horsetooth Road, south on Timberline Road, then back to Harmony Road. Westbound traffic on Harmony will be detoured north onto Timberline Road, west on Horsetooth Road, south on Lemay Avenue, then back to Harmony Road.
Project dates are estimates based on favorable conditions; variances may occur due to weather or other unforeseen circumstances.
Work Zone Information
Typical working hours are weekdays from 7:00 a.m. to 6:00 p.m., however work may occur outside these times or on the weekends to expedite the work. Road closures will be utilized. Alternate routes are suggested to avoid the construction zones. Detour routes include Lemay Avenue, Horsetooth Road, and Timberline Road. Please proceed with caution through the work zone.
For more information on the Harmony Road Maintenance Project and to sign up for project updates, please visit
fcgov.com/engineering/hmp.php
. For current information on road construction in Fort Collins, visit
fcgov.com/fctrip
.