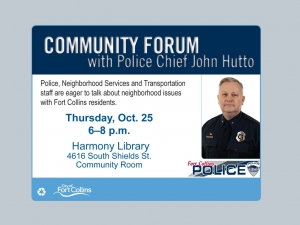 cmRhdmlzQGZjZ292LmNvbQ== alt="image for press release Community Forum with Police Chief John Hutto" class="pull-left img-responsive img-thumbnail" style="margin:0 20px 20px 0" /> Fort Collins Police Chief John Hutto will host an open forum Thursday, October 25, from 6:00 – 8:00 p.m. in the Community Room at the Harmony Library, 4616 S. Shields Street. This is the third open community forum planned in 2012.
The meeting will be tailored to residents south of West Drake Road and west of Mason Street, and south of Breakwater Drive.
City staff will provide brief presentations on neighborhood crime activity data, website on-line tools, followed by break out sessions with City Police, Neighborhood Services and Transportation Services staff to discuss what is working well and how services can improve.
For additional information, contact Rita Davis at 221-6628.