Naturally Yours
Top Three October Outings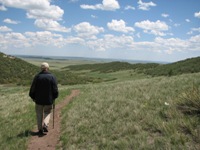 1. Discover Soapstone Prairie Natural Area with a guide. Activities and classes such as Discovering the Lindenmeier Valley, Bike to the Big Hole and Equestrian Rides are offered free, throughout October! Complete list here >>> .

2. Explore Bobcat Ridge Natural Area. Try the 2-mile round trip, easy trail to the historic cabin, or for a longer trip, head to Mahoney Park, a beautiful meadow with interesting rock formations. You might see or hear elk! Check the kiosk for "wildlife candid camera" photos too.

3. Get to know a local treasure- the Poudre River. There are over 15 natural areas along the Cache La Poudre River, many of them accessible from the flat, paved Poudre River Trail. Try parking at Prospect Ponds Natural Area and heading northwest to Riverbend Ponds, Cattail Chorus, Kingfisher Point, Nix and Springer natural areas. Another way to enjoy the river is GeoCache La Poudre, a virtual geocache course. Entries are due October 31.

Healthy Kids Are Outdoors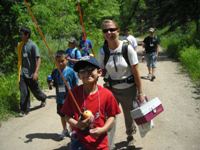 The outdoors are great for everyone. Studies suggest that children who play outdoors in nature are healthier, happier and smarter. In fact, the National Wildlife Federation recommends a "green hour" of unplugged nature time each day. Not sure how to start? Try looking for shapes in the clouds or take a nature photo safari where the children are in charge of photographing the plants, rocks and animals that interest them. Sit quietly in nature and simply listen for 3 minutes, discuss what you heard, compare to your neighborhood sounds. More activity ideas coming in future newsletters.
Why Graze?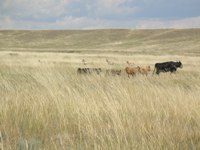 Have you been surprised to see cattle or sheep at a natural area? Grazing is a necessary and effective management tool to achieve natural area conservation targets.

Many natural areas are shortgrass prairie ecosystems, which have evolved with native grazers such as bison. Livestock grazing can mimic bison and help the shortgrass prairie by creating the mosaic of grass heights which is necessary for many wildlife species. Grazing also increases the health and vigor of plants and helps to incorporate seeds into the soil through hoof action. Watch for a webpage about grazing at fcgov.com/naturalareas soon.
Wanted: Bullfrogs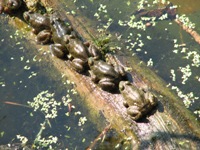 Over 80 citizen scientist volunteers conducted an audio survey of frogs in the Natural Areas this summer. Thank you! This was the second year of the frog survey. In 2009 there was some disturbing news - many bullfrogs, an invasive species, were discovered at places where they were not documented before. Bullfrogs are problematic because they prey on native amphibians and other wildlife. They can also spread chytrid fungus, a disease that is often fatal to native amphibians. The Natural Areas Program is evaluating management options for the 2010 season. The report on the 2009 frog survey will be posted at www.fcgov.com/naturalareas/wildlife.php in mid-October.

You can help reduce bullfrogs - they are legal to catch with a fishing license. Be sure of your identification: bullfrogs are large frogs with a large tympanic membrane (eardrum or disk under their eye) and range in color from dark olive to pale green. If you need more information on identification of any frog species, check out the Colorado Division of Wildlife herptile atlas.


Don't Get Caught Off-Guard at Soapstone Prairie

Soapstone Prairie Natural Area is the City's newest and largest natural area- a beautiful and nearly pristine treasure. It's remoteness, rapid changes and extremes in weather and limited cell phone coverage can make for a true wilderness experience. Recently, Rangers have assisted visitors who underestimated the scale and severity of Soapstone Prairie. Don't be caught off guard! Have a safe visit and be prepared with
these tips >>>
Suggestions or comments on this newsletter are welcome, please contact Zoe Whyman, zwhyman@fcgov.com, 970-221-6311.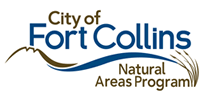 Back to Natural Areas News Archive »