Naturally Yours
You Can Become a Volunteer Ranger Assistant

Do you dream of being outdoors, chatting with visitors, enjoying wildlife and helping the environment? Did you think you would grow up to be a park ranger? It's not too late! You can become a Volunteer Ranger Assistant and be an ambassador for natural areas and open spaces. Training will be in the evenings, August 11 and 13 and all day, Sat. August 15. More information >>>
Three Great Summer Trails

Summer is a great time to be outside, but the heat can be discouraging. Grab your
natural areas map
and try these short hiking trails that are shady or are at a higher elevation.
1. There are several shady trails through
McMurry
and
Salyer
natural areas, along the Poudre River. Try parking at Lee Martinez Park (600 N. Sherwood St), heading west on the Poudre Trail and crossing the river on a cement bridge.
2.
Riverbend Ponds Natural Area
has both ponds (great for fishing) and the Poudre River running through it. You can pick up a
self-guided trail brochure
at a trailhead kiosk or on-line. There are about 3 miles of trail at Riverbend Ponds and 3 parking areas.
3.
Soapstone Prairie Natural Area
doesn't have many trees, but it is 25 miles north and about 1,000 feet higher than Fort Collins, so it can be cooler there. Go early in the morning to beat the heat. The most popular hiking trail is the Towhee Trail, a 3-mile loop through the foothills with great views.
Get Outside with a Guide in August
Join the Natural Areas Program for a free program! Get creative at an Artists' Day, learn about the world-famous Lindenmeier archaeological site, teach your dog trail manners or get tips for connecting kids to the outdoors. Some programs require reservations. All activities are free and are described in the Natural Areas Program and Activity Guide
It's Back to School Field Trip Season
Did you know that the City of Fort Collins offers free guided field trips for school children?
Programs for K-6th grade
are taught by highly trained volunteer Master Naturalists. They are also available to lead programs for any group, call Susan Schafer at 970-416-2480 or email sschafer@fcgov.com.
Predator Research
Do hikers, cyclists and equestrians on the trail affect nature's meat-eating predators, carnivores? That is what researchers from CSU are asking at Bobcat Ridge Natural Area. To find out how wildlife differs in locations near humans and away, a number of motion/heat sensor cameras have been placed both on and off trail. The cameras have documented bobcats, bear, wild turkeys, deer, a hummingbird, and even a bighorn sheep! Your help is needed for the success of the study- it is very important to leave the cameras alone.

Master Naturalist volunteers and students from Rocky Mountain High School will be involved in the research this fall.

Watch this newsletter for updates as the project develops.
Thanks for reading!

Newsletter comments are welcome. Please contact Zoe Whyman, Natural Areas Community Relations Manager, 970-221-6311 or zwhyman@fcgov.com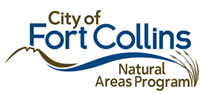 Back to Natural Areas News Archive »