NOTICE:
This newsletter was originally sent on Jan 1, 2013.
January
2013

Naturally Yours
Your Passport to the Natural Areas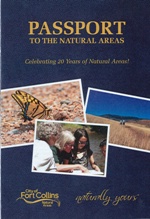 Everyone is invited to celebrate 20 years of natural areas with the new Passport to the Natural Areas; a checklist of natural areas to visit and free activities. Complete your passport for a prize and to be entered into a drawing for a backpack full of outdoor supplies. The Passport is designed to highlight Fort Collins' 39 natural areas and the hundreds of free activities offered there. The free Passport brochure is available online and in natural area trailhead brochure boxes now until November 15, 2013.
The release of the brochure at the dawn of 2013 makes it a great compliment to healthy New Year's resolutions! Use it to help you get more exercise and enjoy some of Fort Collins' favorite places.
Winter Trails to Try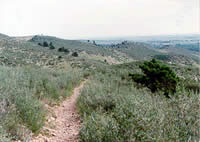 Don't let cold or snowy weather keep you inside! Here are a couple trails that lend themselves to January explorations.
Reservoir Ridge Natural Area- This trail starts with a gentle flat section approaching the foothills, about half a mile long. Then you will get your heart pumping (and your body warm) with a climb of several hogbacks, or foothills, to views of Horsetooth Reservoir and the Bellvue valley. Try the short loop (3 miles round trip) or connect to the 6.8 mile Foothills Trail for a longer journey. The trail on the west side of Reservoir Ridge has been rerouted recently so the trail maintains its elevation instead of dipping sharply up and down, check it out! To follow this description, park at the west end of Michaud Lane, head west for .86 miles, bear right at the first junction, left at the second junction and left at the third junction to make a 3 mile loop, see a trail map here.

If waterways are more your style, you might want to visit Prospect Ponds Natural Area. It is a nice place to see waterfowl and take a short stroll around two ponds in the northeastern part of Fort Collins. There are views of the Cache La Poudre River too. The paved (and plowed) Poudre Trail parallels the western shore of the ponds and soft surface trails encircle the other shores. There are about 1.25 miles of flat trail in total. If you'd like a longer excursion, continue east towards the CSU Environmental Learning Center or west towards Cattail Chorus Natural Area on the Poudre Trail.
Natural Areas 20th Anniversary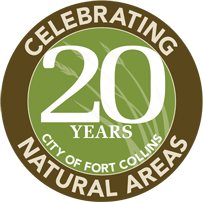 It has been two decades since the first citizen-initated sales tax that funds natural areas. Voters have approved sales tax funding four more times since then, thank you! Fort Collins has conserved over 40,000 acres with 39 natural areas to explore and over 100 miles of trail. Thank you! Everyone is invited to help celebrate the 20th anniversary, join the fun!
January- Make a new years resolution to complete your Passport to the Natural Areas (see story above).

February-Contribute to the multi-media Natural Areas Journal by submitting a photo, written story or video! Everyone is invited to share their natural areas stories with the world.
March- Catch Natural Areas volunteers in the St. Patricks Day parade in downtown Fort Collins.

April-November activities will be announced here and at www.fcgov.com/naturalareas.

Start Your Year With Free Activities & Events



Tracks & Trails: Your Guide to Free Natural Areas Activities will be back next spring with a special 20th anniversary editon. Until then you can learn about events in this e-newsletter or at fcgov.com/naturalareas.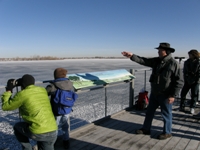 Eagle Watches
Tomorrow! Wednesday, January 2, 2:00-4:45 p.m.
Sunday, January 6, 3:00-4:30 p.m.
Saturday, January 12, 9:00 a.m.-noon
Sunday, January 13, 3:00-4:30 p.m.
Sunday, January 20, 3:00-4:30 p.m.
Tuesday, January 22, 2:00-4:45 p.m.
Drop in and join a volunteer Master Naturalist to look for bald eagles at Fossil Creek Reservoir Regional Open Space. Viewing pier is a short walk from parking lot along a paved trail. Free, no registration required.
The Homesteaders of Soapstone Prairie Natural Area, Friday, January 18, noon-1:30 p.m., 215 North Mason Street, Community Room. Discover who lived here, why they came and how they survived the harsh elements. Learn about the Homestead Act and how it affected Soapstone Prairie's early settlers as they struggled to "prove up". Find out about the railroad, stagecoaches, and schools in the area. Join local historians Suzy Riding, City of Fort Collins Natural Areas staff member, and Brian Carroll, a Master Naturalist volunteer, for this presentation where you'll discover that Soapstone Prairie is a place to meet the past, enjoy the present and preserve the future. Free, no registration required.
Skygazing, Friday, January 18, 7-10 p.m.at Fossil Creek Reservoir Regional Open Space, meet at the parking lot. Volunteers from the Northern Colorado Astronomical Society provide telescopes for public sky viewing. See and discover fun facts about planets, stars, constellations, galaxies and other celestial wonders. Dress warmly and bring something to sit on. Free, no registration required.
Enjoy a Natural Setting from the Indoors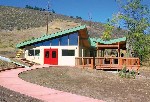 Primrose Studio is a quiet space that you can rent for a retreat, meeting or class. It is at Reservoir Ridge Natural Area and the views of Claymore Lake and the foothills from Primrose are beautiful. There is room for 30 people in this unique, artistically-designed space. Reservations, set-up and equipment are easy, a full kitchen is at your service and a spacious deck is available too. Primrose's rental rates have changed. Learn more here >>>

Enhancement Fund Recipients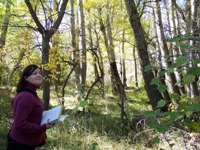 Did you know that the Natural Areas Department encourages stewardship of all natural areas, not just the sites it owns/manages? The Natural Areas Enhancement Fund is a resource to improve habitat on privately owned sites larger than 1/4 acre. Here is a summary of this year's awards. Funds for Russian olive removal on privately-owned open spaces in southeast Fort Collins were received by Fossil Creek Meadows Homeowners Association ($6,755), Greenstone Homeowners Association ($1,200), and Westchase Homeowners Association ($1,545). Legacy Land Trust received $2,000 to help fund Russian olive removal on the Levinger Property Conservation Easement (pictured) in northwest Fort Collins. Two companies received funds to continue their on-site wildlife habitat enhancement projects: Anheuser-Busch Fort Collins Brewery ($2,000) and Avago Technologies ($1,500). Learn more >>>
---------------------------------------------------------------------------------------------------------------------


Natural Areas News is published on the first Tuesday of the month with occasional mid-month updates. Newsletter comments are welcome. Please contact Zoe Whyman, City of Fort Collins Natural Areas Community Relations Manager, 970-221-6311 or zwhyman@fcgov.com
Back to Natural Areas News Archive »