Naturally Yours
Trails that Beat the Heat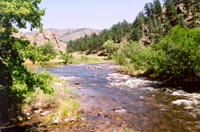 July brings hot weather to Fort Collins. Try these trails nearby which are shady or near water. You'll get the coolest temperatures if you visit in the early morning or near sunset.
Black Powder Trail

at Gateway Natural Area- This trail is 3/4 mile each way and is challenging because of the steep climb. It climbs through a ponderosa pine forest with a variety of wildflowers and comes out on top of a ridge with great views of the canyon below. Note that access to this trail will not be available July 11-16 due to bridge work. Updates will be posted here.

Magpie Meander Natural Area- park at Soft Gold Park and take an easy short walk (1/4 mile) around the pond at shady Magpie Meander. The trail connects to the adjacent McMurry and Salyer natural areas which are great for fishing or to add mileage to your hike. Trails are flat and easy.

The paved Poudre River Trail goes through 7 natural areas! To see them all, park on Overland Trail Road at Larimer County's Lions Park and head east or park at Prospect Ponds Natural Area and head west. Most of the trail is in the shade and flat- its a great bike ride or walk and horses are allowed within 10 feet of the paved trail too!

Spot Wildlife at Night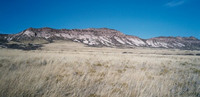 Soapstone Prairie Natural Area and its wildlife will be in the spotlight- literally! You might get to see the "eye shine" of a wild creature! Join an U.S. Fish and Wildlife Service biologist to learn about prairie wildlife and search for nocturnal animals using a spotlight on Thursday, July 21 or Tuesday, July 26, both at 7:30 p.m. 1-2 miles, easy. REGISTRATION REQUIRED. Go to www.fcgov.com/webtrac (registration code 79902-01), email naturalareas@fcgov.com or call 970-416-2815.

Carp Fishing

Derby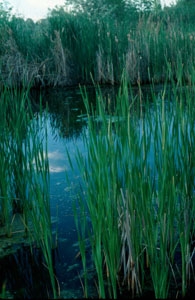 The Natural Areas Program is hosting a Carp Fishing Derby on Saturday, July 23, 9 a.m. to noon, at Arapaho Bend Natural Area. Prizes for the most fish and the biggest fish plus door prizes. You will be helping reduce the population of carp, an invasive fish. Bring your own fishing gear, license and bait. Don't have gear? Rods and bait provided. Fun for all ages and experience levels! REGISTRATION REQUIRED and limited to 100 people, go to www.fcgov.com/webtrac (79907-01), email naturalareas@fcgov.com or call 970-416-2815.
Help the Poudre River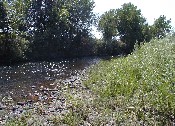 The high water in the Poudre River deposited a lot of debris and trash, so your help is needed to clean it up for wildlife and people. Volunteers will be pitching in to remove litter on Saturday, July 16,
9 a.m. to noon at
Nix Natural Area.
Volunteers are also needed with bikes and trailers to haul trash.
Registration required,
naturalareas@fcgov.com or 970-416-2815.


Thanks for reading! Natural Areas News is published on the second Tuesday of the month with occasional mid-month updates. Newsletter comments are welcome. Please contact Zoe Whyman, Natural Areas Community Relations Manager, 970-221-6311 or zwhyman@fcgov.com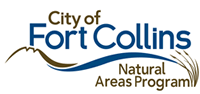 Back to Natural Areas News Archive »