Naturally Yours
Places to See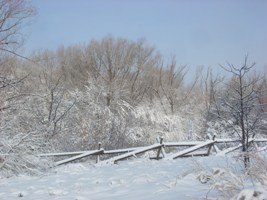 Don't let snowy cold weather discourage you from getting outdoors! Bundle up and check out these short walks or rides.

Click here for a map (pdf) of the natural areas. Want a hard copy? They are stocked at natural area trailheads or you can email naturalareas@fcgov.com and we'll send you one.

Riverbend Ponds Natural Area is a good place to see winter waterfowl since there are several ponds here. About three miles of flat soft surface trails encircle the ponds. You might also enjoy the self-guided tour.

Butterfly Woods Natural Area is a great destination if soft surface trails are snowy or muddy- the paved (and plowed) Poudre River Trail goes right through the site. Park at Lions Park, off Overland Trail Road and head east. You'll cross a gorgeous bridge over the Poudre River and then enter Butterfly Woods. You can turn around here for an easy one mile round trip or the trail continues east for 10 miles.

Share Your Enthusiasm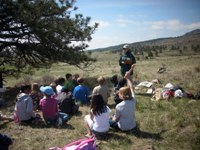 Are you looking for a rewarding volunteer experience while enjoying your natural areas?

Become a volunteer Master Naturalist

! City of Fort Collins Master Naturalists care about natural areas and have a passion for sharing their enthusiasm with others. They learn public speaking skills and lead a variety of programs (including school field trips) on the natural areas while sharing practical stewardship tips for these special places. Master Naturalists form lasting friendships while socializing with other volunteers with the same interests. Applications and more details will be available on February 8 at www.fcgov.com/naturalareas .
Nature Note: Willows

Willows (
Salix sp.
) are a shrub or tree that lives near water. This time of year, their silver grey bark turns brilliant yellow or red. Look for buds that are flat to the bark, like a fingernail on a finger. When leaves appear, they are long and narrow.
Have you ever used aspirin? You can thank willows because the active ingredient in aspirin, salicin, is found in the inner bark of willows. Now, instead of harvesting willows, a synthetic version (acetylsalicylic acid) is used. Wildlife love willows too, the bark is eaten by beavers, deer and insects plus willows are a host to ten larval butterfly species! What medicine is yet to be discovered in plants that have been conserved in natural areas? We don't know, so please leave all plants in place - collecting is illegal.
Grant Boosts Prescribed Fire Efforts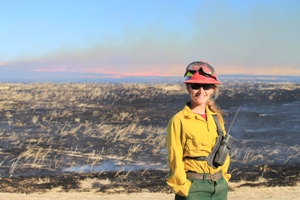 The City of Fort Collins Natural Areas Program has two new full-time employees and a reinvigorated approach to fire as a management tool, thanks to an American Recovery and Reinvestment Act (ARRA) sub-grant from the Colorado State Forest Service. Amanda Gipson and Garrett Paul are developing seven prescribed fire plans and an overarching fire management plan
aimed at guiding the use of fire throughout the natural areas.
Read more >>>
Watch Eagles With A Guide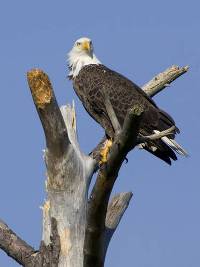 Eagle Watch, Saturday, February 12, 9-11 a.m. at Fossil Creek Reservoir Regional Open Space. Join a volunteer Master Naturalist for wonderful views of eagles while learning about these majestic birds. Be prepared for the weather and a short walk along a paved trail to the viewing area. Binoculars and scopes are provided. Free, no registration necessary, drop-in anytime during scheduled hours. Check www.fcgov.com/naturalareas for possible cancellations and additional dates and times.



Thanks for reading!

Natural Areas News is usually sent on the first Tuesday of the month with occasional mid-month updates. Newsletter comments are welcome. Please contact Zoe Whyman, Natural Areas Community Relations Manager, 970-221-6311 or zwhyman@fcgov.com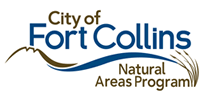 Back to Natural Areas News Archive »