Naturally Yours
Come Outside for Spring Activities!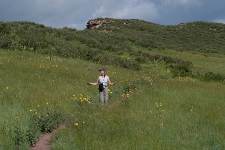 Starry Night: Changing Seasons, Thursday, April 8, 7:15 p.m., Learn about changing seasons at Bobcat Ridge Natural Area and then enjoy night sky viewing through telescopes. Free, registration required. Details >>>
Friday Night Astronomy, Friday, April 16, 7 p.m. Join knowledgeable and friendly volunteers from the Northern Colorado Astronomical Society for a free evening of star gazing at Fossil Creek Reservoir Regional Open Space. Free! Details >>>

Watch for pelicans, osprey, grebes and others (P.O.G.O.) at Fossil Creek Reservoir Regional Open Space on a leisurely 1.5 mile hike led by a volunteer Master Naturalist. Saturday, April 17 and Saturday, April 24, 9-11 a.m. No registration required. Details >>>

Moon Magic at Bobcat Ridge, Sunday, April 25, 7:30 p.m. Hike under the moon light and explore nocturnal animal senses, moon stories and more. Free, registration required. Details >>>
May-October programs are highlighted in Tracks and Trails, a guide to the Natural Areas Program's free offerings that will be released in mid-April. Look for a special edition of this electronic newsletter announcing the publication in your email box!

Is It Happening? Program cancellations due to weather or other factors are posted at www.fcgov.com/naturalareas, please check here before you go.

Volunteer to Listen for Frogs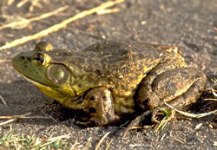 Spring is right around the corner and soon we'll hear the croaking of some familiar friends- frogs! The City's Natural Areas Program needs volunteers to help with an audio survey of frogs living in local natural areas in April through July. Training is provided on April 10 and your volunteer commitment is only 8 hours a month on a flexible schedule. Details >>>
Citizen Science Frog Survey Training: Saturday, April 10, 2010, 9 AM to 1 PM, location given upon required registration. To Register: Submit a volunteer application, visit the short-term volunteer opportunities page to apply online or download an application.
Nature Note:
The Sound and Drama of Red-winged Blackbirds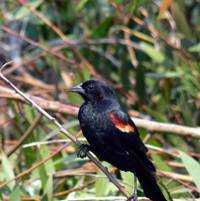 What does spring sound like? In a cattail marsh you'll likely hear the "conk-a-ree" call of male red-winged blackbirds. The male red-winged blackbirds ar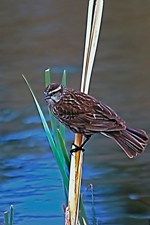 e black with red shoulder patches, while females are streaky brown with a white stripe above their eye and a buff throat patch. Watch for females amongst the cattails, searching for insects to eat or building a nest. Males are more conspicuous, perhaps sitting on the tops of the cattails.

Look carefully and you might see a drama unfold. Watch for the brilliant red badge or epaulette on the male red-winged blackbird's wings. The blackbird can choose to show or hide his badges. Showing the color signals that the male is defending his territory. Males will also cover their badges when exploring for food or a new territory. If the "owner" of the territory displays their badges or chases the "trespasser," the "trespasser" usually submissively departs.
Enjoy the sound and drama of spring in a cattail marsh! Check out North Shields Pond, Redwing Marsh or Riverbend Ponds natural areas to see cattail marshes that often have red-winged blackbirds present. Remember to watch birds from a distance using binoculars. If a creature changes behavior due to your presence, you are too close.
Share Your Story: Natural Areas Journal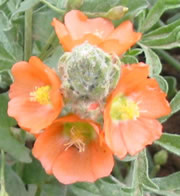 While visiting a City of Fort Collins natural area, people see and hear a variety of wildlife, witness stunning sunsets, are awed by prairie wildflowers in the springtime, and so much more. At this website, read about other citizens' experiences in Fort Collins natural areas and share some of your own.



Thanks for reading!

Newsletter comments are welcome. Please contact Zoe Whyman, Natural Areas Community Relations Manager, 970-221-6311 or zwhyman@fcgov.com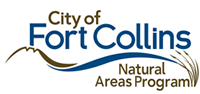 Back to Natural Areas News Archive »