West Mulberry Bridge Replacement
Project Goals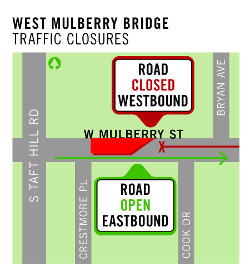 The goal of the project is to replace the existing structurally deficient bridge with a new bridge that meets the current standards.
The posted weight limit on this bridge precludes the passage of emergency vehicles from the nearby fire station.
Funding
The project will be funded through the Colorado Off System Bridge Program (BRO) funds, and Keep Fort Collins Great (KFCG) fund.
Construction update
Phase 2 of the project is ongoing. During this phase, both east and west bound traffic will have one travel lane each on the north side of the road.
Schedule
Construction: Winter 2015/Spring 2016
Phase 2 of the project began January 2016
Construction end date: May 2016