Turnberry Road Improvements
Current Construction Updates
City of Fort Collins Engineering Dept. and Connell Resources are managing construction activities on Turnberry Road.
Turnberry Road Improvement Project Construction Update – July 2013:
Construction activities are resuming on Turnberry Road. Connell Resources will install the top layer of asphalt July 8-10, 2013. This work is anticipated to take three working days and will require lane shifts, bicycle lane closures, and brief intersection closures. Asphalt paving will begin on July 8, and a half day closure of Country Club Road at the Turnberry Road intersection will occur on July 9. On July 10, "Right Turn Only" conditions will apply during center lane paving. Turnberry Road will remain open to two-way traffic, but delays are expected.
View a map detailing the road closure and detours around the construction zone >
---
Project | Funding | Outreach | Related Plans | Contact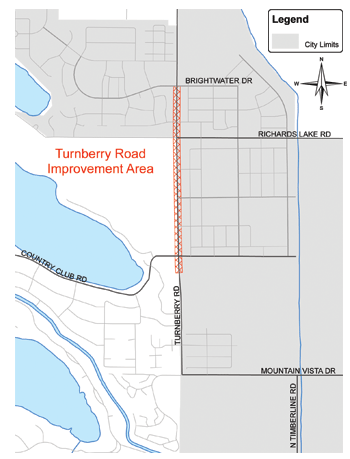 The Project
Background
This project is a compilation of developer required improvements for the Maple Hills, Brightwater Landings, and Richards Lake subdivisions. 2003 City-approved development agreements for these subdivisions specified that improvements along Turnberry Road were to be phased and constructed when the need for the improvements was realized.
Traffic counts and building permits in the area have now reached levels that warrant implementation of the improvements. By combining the developer required improvements into a single project, an overall savings should be realized through economy of scale of a larger project. Impacts to the public will also be reduced since construction will occur in a single project as opposed to separate, smaller projects.
Goals
Improve the safety and traffic flow for motorists
Provide multimodal improvements like bicycle lanes and sidewalks for pedestrians and cyclists
Shift Turnberry Road east to its required alignment in accordance with the development agreements for Maple Hill, Richards Lake and Brightwater Landings.
Improvements
The project will involve the construction of a two-lane arterial roadway, including on-street bike lanes, a center turn lane, landscaped parkways, and sidewalks between Country Club Road and Brightwater Drive. The new two-lane arterial will be constructed to the east of the existing roadway, transitioning back to existing at Brightwater Drive. A pedestrian underpass providing connectivity to the trail system is also planned. There are no plans to signalize intersections within the project limits.
Roadway Improvements

8 on-street bike lanes
Two 12 through lanes
12 center turn lane
12 right turn lanes at subdivision entrances
10 landscaped parkways
6 concrete sidewalks
Roadway drainage improvements

Between Country Club Road and Richards Lake Road*

Part of existing road will become frontage road for 17 adjacent properties located to the west

Pedestrian Underpass north of Richards Lake Road
Overhead Roadway Lighting


View Close-Up Cross Section (PDF)
View Detailed Design Plans (PDF)
*A unique feature of this project is the section of Turnberry Road between Country Club Drive and Richards Lake Road, which will be relocated to the east of the existing roadway, while a section of the existing roadway will be converted to a frontage road for the 17 adjacent properties located on the west side of the road.
Realizing traffic flows along Turnberry would increase due to the planned developments, the City, developers, and impacted residents collaborated on a design which will reduce access points on the west side of Turnberry Road from 20 to two. Not only will this benefit the existing residents by not having to back out onto a busy arterial roadway, but also benefit motorists by providing two known and visible points from which to expect turning movements.
Once construction is complete, setbacks from the edge of the closest travel lane to the rear lot line will vary for each adjacent property within the Maple Hill subdivision, ranging from 85 to 125. Care was taken during the development of the subdivision to make sure minimum setback requirements were met as well as to provide a landscaped tract buffer between the back of the sidewalk and the rear lot lines. The project scope will include the installation of a landscaped parkway and the coordination with respective homeowners associations (HOAs) for the compatibility and long term maintenance of the planned improvements.
Art in Public Places
Artist Susan Dailey has been selected to design art work that will be incorporated into the underpass to be built north of Richards Lake Road. Her art will focus on the theme of Windows into the Past.
Learn more about the artist, the art theme and planned design > (PDF)
To learn more about the Art in Public Places program, visit fcgov.com/artspublic.
Funding
Developer Contributions (majority of the funding)
Street Oversizing Funds
Keep Fort Collins Great Funds
Parks Planning funds
Public Outreach
The City of Fort Collins hosted an open house for residents learn more about the project. The open house was held on Thursday, March 22, from 5 - 7 p.m. at Tavelli Elementary School. City staff were on hand to discuss design, schedule, impacts, and planned results. All residents located near the project area were mailed an invitation directly.
The project team continues to keep citizens informed through weekly email newsletters. If you would like to receive these emails, please sign-up at the top right corner of this page.
Related Plans
Master Street Plan
Mountain Vista Subarea Plan
Contacts
Project staff is happy to answer any questions you may have. We are also available to conduct on site visits to discuss affected property owner concerns.
Kyle Lambrecht, Civil Engineer
City of Fort Collins
970-221-6566 or a2xhbWJyZWNodEBmY2dvdi5jb20=

Mark Laken, Civil Engineer
City of Fort Collins
970-222-3546 or bWxha2VuQGZjZ292LmNvbQ==
back to top