Sharp Point
And

Nancy Gray Connection Project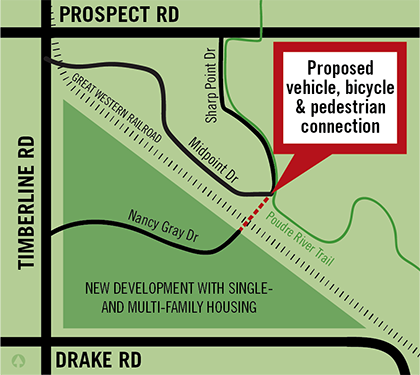 Project Goals
Provide a safe connection for vehicles, bicycles, and pedestrians across the Great Western Railroad tracks
Provide Emergency Services multiple ways to access nearby neighborhoods and businesses
Connect the area to the south with the Poudre River Trail north of the tracks
Reduce current and future traffic congestion partially due to recent developments in the area
---
Background
The City Master Street Plan identifies Sharp Point Drive and Nancy Gray Avenue connected across the Great Western Railroad tracks. In recent years, the connection has become a priority due to recent developments to the south. Emergency services including Fort Collins Police and the Larimer County Sheriff's Office are located very close to this project, and will benefit greatly from having multiple ways to access neighborhoods and businesses.

The project will also provide a bike and pedestrian connection to the Poudre Trail north of the railroad tracks.
---
Project Status
The City has submitted an application for a new at-grade crossing of the Great Western tracks to the Public Utilities Commission (PUC). Due to Great Western Railroad opposition of the new crossing, the application is going through a hearing process with the PUC. As part of the hearing process, City Staff are actively negotiating with Great Western to gain support. A final decision by the PUC is expected in 2018.

The City Engineering Department and design consultant have finalized design in order to make the project "shovel ready" to coordinate with railroad timing. At this point, construction scheduling is tentative due to the PUC process and railroad coordination.

Construction activity is anticipated to have little impact on nearby businesses and residences.
---
Funding
Transportation Capital Expansion Fee (formerly Street Oversizing) funds are the primary funding source. Additional funds were appropriated as part of the City's 2015-2016 budget.
---
Schedule
Engineering Design: complete by early 2018
PUC Final Decision: 2018
Railroad Coordination: ongoing
Start of Construction: 2018
Construction scheduling is tentative due to the PUC process and coordination with Great Western. More precise construction dates will be added as they are determined.
---
---