Contact Information
Dept Head: Chad Crager
PO Box 580, Fort Collins, CO 80522-0580
Prospect Corridor - Phase II
Focus Area
The City of Fort Collins and Colorado State University will continue corridor improvement projects which began with Phase One work in December, 2015. Phase One work was completed between Remington Street and I-25. Phase Two of the Prospect Corridor will be from Shields Street to Remington Street. The focus area also includes an emphasis on nearby projects at the intersection of Elizabeth and Shields, and maintenance work on Lake Street (Shields Street to College Avenue).
Collaborative Improvements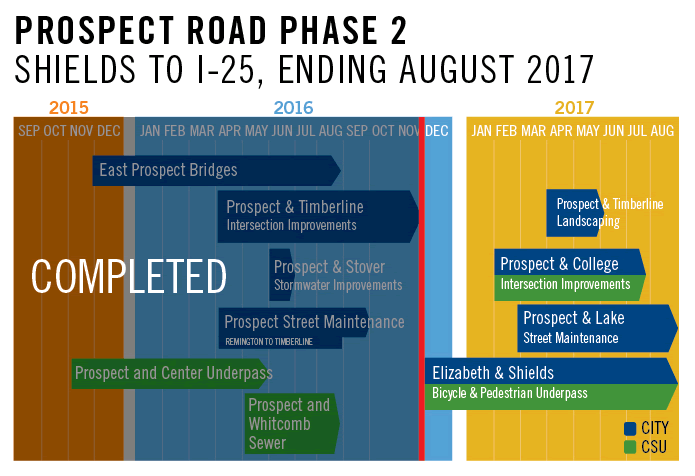 The City of Fort Collins and Colorado State University (CSU) are partnering on two major intersection improvement projects (College / Prospect and Elizabeth / Shields); along with other City maintenance and utility upgrades along Prospect from Shields to Remington. All projects will be accomplished through ongoing collaboration with other agencies including the Colorado Department of Transportation (CDOT), Larimer County, Poudre School District (PSD) and other private Fort Collins utility providers. As one of the most vital gateways to Fort Collins, the maintenance and improvement of the Prospect corridor is a high priority for many of the City's major entities. The City of Fort Collins will be working in coordination with these agencies, residents, and businesses to minimize construction times and complete these projects as efficiently as possible.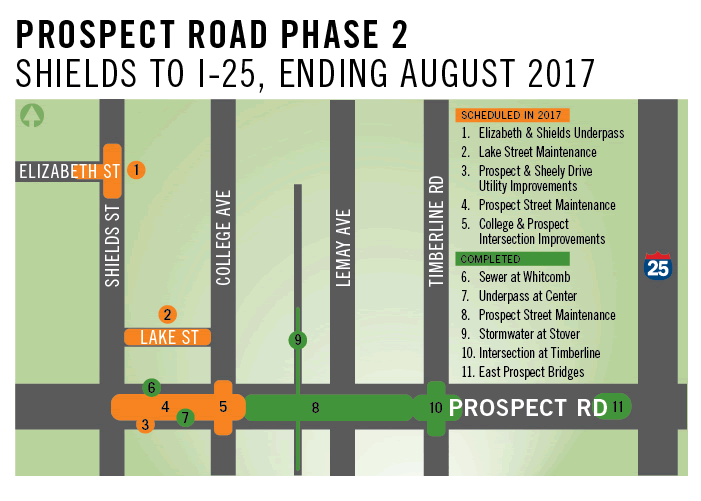 The City Engineering, Streets and Utilities departments will also be collaborating closely to complete the design and construction phases for several projects simultaneously, similar to the 2016 construction season on East Prospect.
All projects' closures and detours will be coordinated to limit the duration and number of closures, and refine a schedule with the least impact to businesses, commuters and users.
Some of the Prospect improvement projects will focus on enhancing transit and multi-modal traffic flow, while other significant improvements will be made to modernize aging infrastructure assets and the underground utility system. Upgrades will also improve road and ride quality through street maintenance work.
2016 Completed Projects
East Prospect Bridges (near I-25)
Prospect and Stover Storm Water Improvements
Prospect and Center Bicycle and Pedestrian Underpass
Prospect and Whitcomb Sanitary Sewer
Prospect and East Lake Water Improvements
Prospect Street Maintenance (Remington to Timberline)
Prospect and Timberline Intersection Improvements

Intersection work is complete, north of the Great Western and Timberline crossing
Final median and landscaping, south of the Great Western crossing will be completed in the spring of 2017
Identifying the 2017 Projects
Prospect and College Intersection Improvements
City Engineering, City Utilities, and Colorado State
The Prospect and College intersection was identified as a high priority for safety improvements. The highly congested intersection has some of the highest traffic volumes in the entire City in addition to higher than average vehicle accident rates, significant congestion in peak travel times, substandard bicycle and pedestrian facilities and insufficient turn lanes. Turn lane extensions and improved signal timing will be implemented to reduce congestion, while re-designed medians and bicycle and pedestrian facilities will update the look, feel and functionality of the intersection for all modes of transportation.
The project design and construction is being coordinated with Colorado State University's obligations for improvements at this intersection associated with the proposed Medical Center on the northwest corner of the intersection.
Additionally, the City's Utility Department will be replacing damaged and undersized storm sewer infrastructure in conjunction with the intersection project. Currently, this intersection experiences flooding in minor storm events. The construction of larger diameter pipe, per the Stormwater Master Plan, will eliminate flooding issues.
The intersection, utility and Colorado State improvements are being designed collaboratively and constructed at the same time to minimize impacts to local businesses and the travelling public.
City Engineering Contributions
Funding:General Fund Reserves allocated for City Improvements
Budget: $3.2 M
City Utilities Contributions
Funding: General Fund Reserves allocated for City Improvements
Budget: $0.75 M
Timeline (construction): February – July 2017
Traffic Expectations: Multiple phases with significant traffic impacts including: turn lane closures, directional travel closures on Prospect, and crossing College Avenue with new utilities and crosswalks
---
Prospect and Sheely Drive Utility Improvements
City Utilities
City Utilities Department will be replacing and upsizing an existing 6" vitrified clay sanitary sewer pipe from the 1960's to an 8" PVC plastic pipe between Sheely Dr. and Whitcomb St. This sewer main has been identified and prioritized for replacement based on information received from the department's TV camera inspection program.
City Utilities Contributions
Funding : General Fund Reserves allocated for City Improvements
Budget : $0.75 M
Timeline (construction) : March 18 - April 14, 2017
Funding: Fort Collins Utilities Stormwater funds
Budget: $200,000.00
Traffic Expectations: Coordinated with Street Maintenance work and the College / Prospect intersection to reduce multiple disruptions to the travelling public. Crews will be working in the westbound travel lanes.
---
Prospect Street Maintenance (Shields to Mason Trail)
City Streets Department
Similar to the 2016 maintenance work on East Prospect, Prospect Road from Shields Street to the Mason Trail is due for concrete repairs and asphalt maintenance. Phased street repairs will begin in April 2017 and will be completed in August 2017 to best coincide with other construction efforts on Prospect Road. The College and Prospect intersection work will resurface Prospect from the Mason Trail to just east of Remington, matching in with the western end of the 2016 improvements.
This work will correct poor drainage, trip hazards and provide key ADA updates to the sidewalk system. The asphalt resurfacing will extend the life of the pavement and improve ride quality.
Funding: 2016/2017 Keep Fort Collins Great (KFCG)
Budget: West Prospect $1.5 M, Lake Street $1.0 M
Timeline:
Phase 1: Remington to Great Western Railroad - Completed
Phase 2: Prospect (Shields to Mason Trail) and Lake Street (Shields to College)
Concrete Repairs: April – June 2017
Final Paving: May – August 2017
View Streets Maintenance Program Website
---
Elizabeth and Shields Bicycle and Pedestrian Underpass
City Engineering and Colorado State
The City and Colorado State University (CSU) have been working in partnership for years to improve bicycle and pedestrian safety amid continued and projected population growth along the West Elizabeth corridor. CSU is making a series of improvements as a commitment by the University to improve safety and make the campus more accessible.
The proposed bicycle and pedestrian underpass will cross under Shields Street and tie the Campus West area to CSU, via the West Elizabeth corridor.
The project aligns with multiple CSU and City planning efforts, such as: West Central Area Plan (2015), CSU Parking and Transportation Master Plan (2014), City Bicycle Master Plan (2014), City Student Housing Action Plan (2013), City Arterial Intersection Prioritization Study (2012), and the City Transportation Master Plan (2011). All of these planning efforts identified the need for improvements at the Elizabeth and Shields intersection with recurring themes of: enhanced safety, separation of travel modes, and reducing the number of conflict points and crashes.
The design team has been working on construction phasing options to minimize the impacts to businesses, residents, and the travelling public. At the same time, the construction phasing has been designed to be the most impactful will students are on Winter Break and Spring Break. Given the significant amount of bicycles and pedestrians using this intersection, the construction phasing will allow these crossings to remain in place with minor detours expected.
City Engineering Contributions
Budget : $300,000 for Traffic Signal System and Right-of-Way Inspection
Colorado State Contributions
Budget : $10.0 M
Timeline (construction): December 2016 – August 2017
Traffic Expectations : Multiple phases with lane drops on Elizabeth and Shields during December and January. Expect a three week long, full closure of Shields Street in March (one of these weeks will occur during Spring Break).
---
Colorado State University Projects
View CSU Construction Project Website
| | | |
| --- | --- | --- |
| City | Lake Street (Shields to College) | Summer 2017 |
| City | Shields Street (Mulberry to Vine) | Summer 2017 |
| City | Pitkin Low Stress Bike Corridor | Spring 2017 |
| CSU | Elizabeth and Shields Underpass | Winter 2016 – Summer 2017 |
| CSU | Chemistry / Biology buildings | Spring 2016 – Fall 2017 |
| CSU | Stadium | Fall 2015 – Fall 2017 |
| CSU | Medical Center | Winter 2016 – Spring 2017 |
Communicating with the Public
City and CSU staff will utilize multiple strategies and various tools to engage the public. These include individual project websites with Project Manager contact information, Variable Message Signs (VMS), FCTrip, social media (City Facebook and Twitter), media releases, newspaper articles, direct mail, special events, key partner outreach and coordination (Schools, Emergency Services, area property/business owners).