Become a Master Naturalist Assistant Volunteer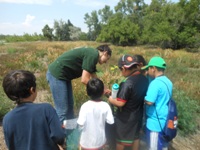 Master Naturalist Assistant volunteers help with props, equipment, handouts, and evaluations on natural area field trips. No teaching is required because Master Naturalist volunteers lead the educational field trips.
Becoming an Master Naturalist Assistant (MNA) is a rewarding way to take an active role and make a difference in the community. Volunteers will learn about local natural history and explore the natural areas with other interested volunteers. MNA volunteer opportunities are many and varied and designed to fit most schedules.
Training is free! Volunteers must attend all sessions:
Wednesday, May 30, 9:00 a.m. to 3:00 p.m.
Thursday, May 31, 9:00 a.m. to noon
Monday, June 4, 9:00 a.m. to 1:00 p.m.
A background check is required. Applications are available at https://engage.fcgov.com/d/NA/App/MasterNaturalistAssistant
Class size is limited for this popular program. Application deadline is May 24, 2018. If you have questions call 970-224-6118 or email skenney@fcgov.com.
Seeking Garden Volunteers, Apply by 5/13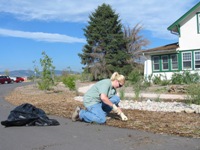 You can volunteer to nurture a living exhibit that teaches about the benefits of native plants and provides design inspiration. Native Plant Garden Volunteers work at the City of Fort Collins Natural Areas Department's Headquarters, Nix Native Plant Garden including weeding, mulching, and pruning. After attending an orientation training (Tues. May 15, 9-10 am), gardening volunteer days are Mondays and Tuesdays from 8 a.m. to 11 a.m. (starting May 21, weather dependent). Gardening experience is helpful but not required. This is a great opportunity for those with limited mobility, garden clubs, neighborhoods, or church groups. Adults only please. Read the job description and then click here to apply. Learn more about the Nix Native Plant Garden.
Support Birds with Natural Nesting Material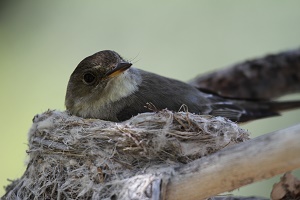 The weather is warming up, which means birds are returning to Fort Collins to build nests! And who hasn't seen the suggestions to leave scrapes of yarn, human hair, twine, and dryer lint for these busy bodies? While it sounds like a great idea, these suggestions can cause terrible consequences to birds such as entanglement, choking, and even death! If you do want to provide nesting material, there are many safe and natural materials that birds can use including fallen leaves, unraked sticks, dry grass, straw, and moss. To find additional safe nesting materials, visit the National Wildlife Federation's blog
Free Upcoming Activities in May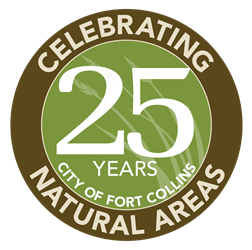 Spring Birding Along the River, Wednesday, May 3, 9:00 a.m. – noon, Lee Martinez Park, meet near the tennis courts. Join Natural Areas Department staff and volunteers for a leisurely stroll along the paved Poudre River Trail to look for spring migrants. Bring binoculars (or borrow ours), water, bug spray, and sun protection. Adults only, please. Free, registration required at fcgov.com/register
Geology-Ecology Exploration: From Basement to Desert, Tuesday, May 15, 9:00 a.m. – 1:30 p.m., Bobcat Ridge Natural Area, meet at the parking lot. Explore with experts in geology and ecology to uncover the secrets of the oldest rocks in Fort Collins and how the landscape was shaped by natural forces to form the ecological landscape of today. Bring sun protection, lunch, water, sturdy shoes, and rain gear. 4 miles; moderate. Free, registration required at fcgov.com/register
Behind the Scenes Birding, Thursday, May 17, 8:30 a.m. – noon, Bobcat Ridge Natural Area, meet at the parking lot. Explore a closed-off portion of Bobcat Ridge. Brooks Canyon is a birdy place! It provides a variety of habitat for a variety of birds. Participants will ride in a van and must stay for the entire program. Bring water, snacks, off-trail shoes and binoculars (or borrow ours). 1-2 miles off-trail; easy. Free, registration required at fcgov.com/register
Astronomy at Bobcat Ridge: The Speed of Light, Friday, May 18, 8:30 p.m. – 10:30 p.m., Bobcat Ridge Natural Area, meet at the parking lot. Enjoy a brief, family-friendly astronomy program followed by skygazing. Volunteers from the Northern Colorado Astronomical Society provide telescopes for your viewing pleasure. Dress warmly, bring water and a blanket or chair to sit on in the parking lot. Program begins at the picnic shelter, a 0.25 mile-walk. Please arrive on time! The gate closes shortly after start time and parking is not allowed on the road outside the gate. Free, registration required at fcgov.com/register
Discover the Bobolinks, Saturday, May 26, 8:30 a.m. – 10:00 a.m., Reservoir Ridge Natural Area, meet at the trailhead off Overland Trail Rd. Each year for a short time, we are visited by one of Colorado's rare birds, the bobolink. Kids, bring your parents for a fun morning of bobolink spotting. Learn listen and see this special visitor and some of its friends. Binoculars will be provided. 0.25 miles; easy. Free, registration required at fcgov.com/register
Skygazing at Fossil Creek Reservoir, Saturday, May 26, 9:00 p.m. – 11:00 p.m., Fossil Creek Reservoir, meet at the parking lot. Volunteers from the Northern Colorado Astronomical Society provide telescopes for your viewing pleasure and share their knowledge about stars, planets, galaxies, and more. Dress warmly and bring a blanket or chair to sit on. Meet in the parking lot. Free, registration required at fcgov.com/register