Free Upcoming Activities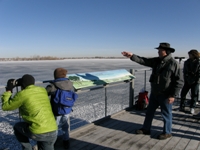 Eagle Watches at Fossil Creek Reservoir Natural Area. Did you know that bald eagles come to Fort Collins in the winter? Free Eagle Watches are a great way to see them because friendly Master Naturalist volunteers provide spotting scopes and interesting information about these majestic creatures. Eagle Watches are a free drop-in activity. Remember: If temperatures are below freezing, or it's windy or foggy, the Eagle Watches may be canceled so be sure to visit www.fcgov.com/naturalareas for weather cancelations and updates before you go.
Friday, January 5, 3:30 - 5 p.m.
Saturday, January 6, 3:30 - 5 p.m.
Friday, January 12, 3:30 - 5 p.m.
Saturday, January 13, 3:30 - 5 p.m.
Eagle Watches continue through mid-February, check the schedule at fcgov.com/register
Skygazing, Saturday, January 20, 7-9 p.m. Fossil Creek Reservoir Natural Area. Each month volunteers from the Northern Colorado Astronomical Society provide telescopes for your viewing pleasure and share their knowledge about stars, planets, galaxies, and more. Dress warmly and bring a blanket or chair to sit on. Meet in the parking lot off Carpenter Road. Free, registration required. For weather updates, visit the NCAS website.
Certified Interpretive Guide Training, Learn to give powerful presentations! Fees increase January 13, class is January 30 - February 2, 2018, $230 (Certification is an additional $150).

Listening to Understand: Poudre River Forum, Friday, February 2, 2018, 8 a.m- 4 p.m. at Island Grove Events Center, Greeley. The Forum brings together people like you who farm on the Poudre, drink beer from the Poudre, care about the Poudre, and advocate for Poudre river health to learn from one another and to collaborate. Register now! Learn more >>>