Funding For Your Natural Area Idea or Project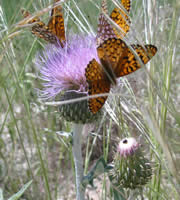 Three local sources of funding are available to support projects that enhance or steward public or private natural spaces:
The Enhancement Fund supports projects on City-certified natural areas such as native tree and shrub plantings, removal of exotic pest trees, wetland restoration, or native grassland revegetation.The information packet includes an application and provides details.Applications are due Nov. 3.
Nature in the City supports Community Projects with partner organizations such as HOA's, schools, community groups, non-profits, businesses, and others in the community to increase access to high quality natural spaces for people and wildlife. You are invited to plan and implement neighborhood-scale projects that improve access to nature, increase landscape diversity, and connect wildlife corridors throughout the city. As Fort Collins grows toward its "buildout" population, these projects will help ensure that nature is well-integrated into the urban fabric of public and private lands. Applications are due October 2.
The City of Fort Collins' partner, Larimer County, offers Small Grants for Community Partnering (due September 7) for projects that:
Protect or enhance natural areas, including wildlife habitat, river areas, and wetlands.
Link existing open lands and parks.
Provide opportunities for environmental education, outdoor recreation, or nature interpretation.
Connect people to the land via agriculture or increased access to open spaces and natural areas.
Support research on Larimer County open spaces.
Upcoming Activities and Volunteer Opportunities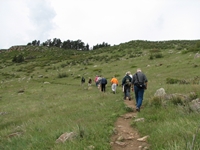 Science Behind the Scenery: Amphibian Decline: Global to local, a view from the trenches Wednesday, September 6, 7:00 p.m. – 8:00 p.m. Nix Farm, 1745 Hoffman Mill Rd. These informative talks are designed for adults to learn more about research and science related to natural areas. Amphibian decline may seem like an exotic issue, but here in the Front Range of Colorado, some frogs are in trouble. Dr. Erin Muths will introduce a variety of amphibians and detail some of the local research on the secret life of toads. Bring a snack if you like. Parking is limited; please carpool, bike or walk. Free, registration required at fcgov.com/register
The Story of the American Bison, Thursday, September 7, 4:00 p.m. – 6:00 p.m. Soapstone Prairie Natural Area, meet at the south parking lot.See American bison in their natural habitat, the shortgrass prairie! We will meet at Soapstone Prairie Natural Area to learn about the bison and their impact on this ecosystem as we observe the herd. Please note: The bison are constantly on the move and we cannot guarantee that they will be visible. Bring binoculars, snacks, water, closed-toe shoes, and sun protection. 0.5 miles; easy. Free, registration required at fcgov.com/register
Environmental Stewardship Project for Teens, Saturday, September 9, 9:00 a.m. – 1:00 p.m. Get your hands dirty and spend a day with your friends outside! This is an opportunity to actively participate in the restoration of your natural areas. Participants will play a role in choosing a project and site once registered. Free, registration required at fcgov.com/register
Skygazing at Fossil Creek Reservoir, Saturday, September 9, 9:00 p.m. – 11:00 p.m. Fossil Creek Reservoir, meet at the parking lot. Volunteers from the Northern Colorado Astronomical Society provide telescopes for your viewing pleasure and share their knowledge about stars, planets, galaxies, and more. Dress warmly and bring a blanket or chair to sit on. Meet in the parking lot. Free, registration required at fcgov.com/register
Rustic Women of Soapstone Prairie, Monday, September 11, 1:00 p.m. – 2:30 p.m. Soapstone Prairie Natural Area, meet at the north parking lot. Early pioneers required sacrifice, hard work, and determination to make a living. Learn about three historical women who homesteaded at Soapstone Prairie and get a glimpse of pioneer life on the prairie. 0.25 miles on paved trail; easy. Free, registration required at fcgov.com/register
Senior Stroll: If Skulls Could Talk, Thursday, September 14, 9:30 a.m. – 11:00 a.m. Nix Farm, 1745 Hoffman Mill Rd. Enjoy a short stroll along the Poudre Trail while learning about the wildlife the river supports. Skulls will be used to show the similarities and differences between different animal species. This program is accessible and meant to be enjoyed by seniors with limited mobility. The program will move at a slow pace and is accessible for wheelchairs and walkers. Shade and/or an indoor facility is available. Free, registration required at fcgov.com/register
Astronomy at Bobcat Ridge – The Magnificent Milky Way,, Friday, September 15, 7:30 p.m. – 10:00 p.m. Bobcat Ridge Natural Area, meet at the parking lot. Enjoy a brief, family-friendly astronomy, learn about our amazing galaxy and see the Milky Way in the autumn sky. Volunteers from the Northern Colorado Astronomical Society provide telescopes for your viewing pleasure. Dress warmly, bring water and a blanket or chair to sit on in the parking lot. Program begins at the picnic shelter, a 0.25 mile-walk. Please arrive on time! The gate closes shortly after start times and parking is not allowed on the road outside the gate. Free, registration required at fcgov.com/register
New! Nix Native Plant Garden Tour, Wednesday, September 27, 9:00 a.m. – 10:30 a.m. at Nix Farm, 1745 Hoffman Mill Rd. Explore what's in bloom in the Nix Native Plant Garden and learn why native plants are important for birds, pollinators, and other wildlife. Come away with wildflower seeds and ideas for incorporating native plants in your home gardens. Bring water, sun protection, and any other comforts you might need. Free, registration required at fcgov.com/register
Science Behind the Scenery: Ancient People of Fossil Creek, Thursday, September 28, 7:00 p.m. – 8:00 p.m. 215 N. Mason Community Room, enter through the north door. These informative talks are designed for adults to learn more about research and science related to natural areas. Discover what life may have been like for the ancient inhabitants of the plains. Anthropologist Dr. Jason LaBelle uncovered artifacts from over 1,200 years ago at Fossil Creek Wetlands. Bring a snack if you like. Free, registration required at fcgov.com/register
Volunteer Opportunity! National Public Lands Day, Saturday, September 30, 7:30 a.m. – 1:00 p.m. Soapstone Prairie Natural Area, transportation provided from Nix Farm, 1745 Hoffman Mill Road. Volunteer to help expand the Laramie Foothills Bison Conservation Herd. Volunteers will work to remove old wire cattle fencing to make way for the phase II pasture expansion. Duties will include pulling t-posts, removing wire ties and rolling up wire. Please come prepared to work outside in the sun - wear closed toe shoes, and a hat. Natural Areas will provide sunscreen, water, snacks and lunch. Free, registration required at fcgov.com/register
Mountain Bike Ride at Soapstone Prairie, Saturday, September 30, 10:00 a.m. – 2:00 p.m. Soapstone Prairie Natural Area, meet at the south parking lot. For beginner and advanced riders alike! Members of Overland Mountain Bike Club will lead the ride and Master Naturalists will provide fascinating information about the area. Multiple route options; easy-strenuous. Length of ride will vary by route chosen: 1 hour, 2 hour, and 4 hour options. Bring your bike, helmet, snacks/lunch, water, and sun protection. Free, registration required at fcgov.com/register
Science Behind the Scenery: The State of the Poudre: A River Health Report Card
Thursday, October 5, 7:00 p.m. – 8:00 p.m, 215 N. Mason Community Room, enter through the north door. These informative talks are designed for adults to learn more about research and science related to natural areas. Jen Shanahan, Watershed Planner, will talk about the recently completed Poudre River Health Report Card. Come learn about how to assess river health and how the Poudre River scores. Bring a snack if you like. Free, registration required at fcgov.com/register