Volunteer Project: National Public Lands Day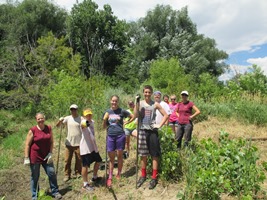 Saturday, September 24, 9 am- 12 noon.
Celebrate local land conservation at one of Fort Collins' newest natural areas, Tanglewood! We will be removing about ¼ mile of wire fencing to make way for a more aesthetic and wildlife-friendly fence. Project options for kids and families will be available. Wear long pants, closed-toe shoes, sun, eye and mosquito protection and bring work gloves if you have them. Lunch will be provided! Meeting and parking details will be emailed to registered participants.
Free, registration required.
October Free Activities
Animal Tracking, Saturday, October 1, 10 a.m.-12p.m. Nix Farm, 1745 Hoffman Mill Rd. Learn the basics of how to read the landscape for subtle clues and patterns of animals while connecting to nature in a deeper way. Free, registration required at naturetracker.fcgov.com
Nature Photography for Teens, Tuesday, October 5, 4:30-6:30 p.m. Discover how to take incredible photos of nature using simply the camera on your cellphone! Learn techniques and spend time outside taking photos. Bring a cellphone with camera capacity. Free, registration required at naturetracker.fcgov.com
Science Behind the Scenery- Prairie Dogs, Plague, and Black-Footed Ferrets, Thursday, October 6, 7-8 p.m. Nix Farm, 1745 Hoffman Mill Rd. These informative talks are designed for adults to learn more about research and science related to natural areas. Learn about the dynamic relationships on Soapstone Prairie, as well as an update on the ferrets' first year, with Natural Areas Department Land and Water Manager Daylan Figgs, Colorado Parks & Wildlife Disease Researcher Dan Tripp, and U.S. Fish & Wildlife Service Wildlife Biologist John Hughes. Parking is limited—please carpool, bike or walk. Free, registration required at naturetracker.fcgov.com
Skygazing at Fossil Creek Reservoir, Friday, October 7, 7:30-9:30 p.m. Meet at the parking lot. Volunteers from the Northern Colorado Astronomical Society provide telescopes for your viewing pleasure and share their knowledge about stars, planets, galaxies, and more. Dress warmly and bring a blanket or chair to sit on. Meet in the parking lot. Free, no registration required but you can get a reminder and updates by signing up at naturetracker.fcgov.com
Hike to a Homestead, Saturday, October 15, 9 a.m.-2 p.m. Soapstone Prairie Natural Area, meet at the south parking lot. Learn about the early history of the settlers of Soapstone Prairie. Visit several homestead ruins and hear stories about pioneer families. Options for moderate 3-mile or moderate–strenuous 6-mile hike. Free, registration required at naturetracker.fcgov.com
Science Behind the Scenery- Bio-Engineering: Harnessing the Resiliency of Nature, Thursday, October 27, 7-8 p.m. Nix Farm, 1745 Hoffman Mill Rd. These informative talks are designed for adults to learn more about research and science related to natural areas. How can we mimic nature to create stronger, more resilient communities? CSUs Dr. Hussam Mahmoud works at the intersection of biology and structural engineering and will share his research, including how the structure of bird nests serves as a model for better buildings. Parking is limited—please carpool, bike or walk. Free, registration required at naturetracker.fcgov.com
Campfire at Nix Farm- Things that Go Bump in the Night, Friday, October 28, 6:30-8 p.m. Nix Farm, 1745 Hoffman Mill Rd. The howl of a coyote, the hoot of an owl––discover why those nighttime noises aren't really so scary as you spend an evening cozy by a campfire complete with stories and s'mores! These programs are suitable for all ages. Campfires at Nix Farm do not include a hike and are wheelchair accessible. Dress warmly and bring water and lawn chairs or blankets to sit on if you like (limited seating available). Free, registration required at naturetracker.fcgov.com