Soapstone Prairie Natural Area
Family Nature Club members were treated to a beautiful blue sky morning as we arrived at Soapstone Praire Natural Area. Sue Schafer gave a presentation on the many stories that surround this beautiful place. Soapstone was conserved by the citizens of Fort Collins because of it's ecological, historical and archaeological signficance. Not only is Soapstone Prairie home to the Lindenmeier archaelogical site but it is also home to the newly reintroduced (and endangered) black-footed ferrets and bison.
While everyone listened, the kids got to walk around and discover specimens such as a pronghorn skull, bison horn and mountain lion pelt. As we talked about the archaeological signifance of the site, we learned that Soapstone was special because of ancient beads and needles that were found here, proof that prehistoric people were not only surviving but thriving. We had a chance to express our creative side by making our own bead necklaces.
Reaching Back in Time
After the presentation, we walked up the .8 mile path to the Lindenmeier Overlook. Along the trail we found lady bugs, caterpillars and butteflies but we did not see a single rattlesnake! The weather was perfect with plenty of sunshine and a light breeze.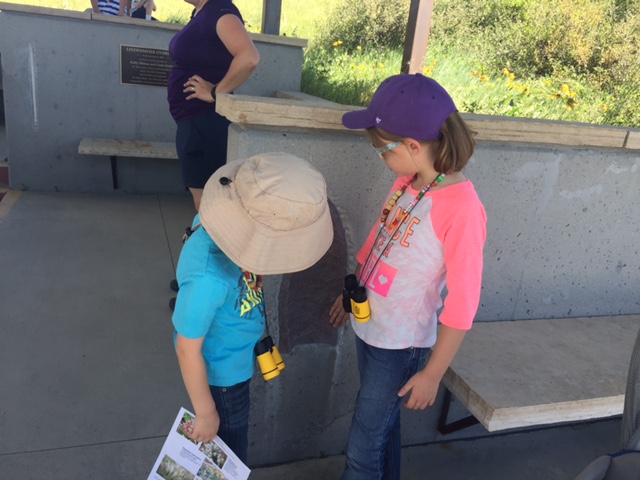 The Lindenmeier Overlook offered families a chance to see the famous dig site where thousands of prehistoric artifacts were found by the Smithsonian Institute in the 1930's. While you can no longer see much of the dig site, the shelter at the overlook provides kids the chance to see and touch giant versions of the more famous artifacts such as Folsom Points.

As we drove out from the north parking lot, families who stopped at the bison viewing area were delighted to be able to look through Ranger Suzy's viewing scope to see mama and baby bison running through prairie, similar to the way they did 200 years ago.

Soapstone Prairie is open every day, March through November. The best time to enjoy Soapstone Prairie is the in the summer when the cooler temps and breezes feel good. Soapstones Prairie's elevation is 1000 feet higher than Fort Collins so the climate can often be quite different. For more information about Soapstone prairie you can visit the Natural Areas Dept web page at http://www.fcgov.com/naturalareas/finder/soapstone

To stop receiving these emails please unsubscribe.
Pass it On!
Start your own Family Nature Club! Invite your neighbors to join you on regular outdoor aventures.