Updates from Spring
Loveland Youth Gardeners

celebrates 20 years by breaking ground at their new locaion May 21st. Check them out at
907 S. Lincoln Ave. Loveland, CO.
C
ity of Fort Collins Natural Areas
completed 23 school field trips this Spring, reaching 1,300 students in just 6 weeks!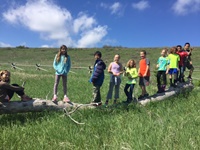 Larimer County Natural Resources, Gardens on Spring Creek and Natural Areas
provided outreach at the Community Health Fair in Poudre Mobile Park. Despite the weather, they were able to reach a great audience!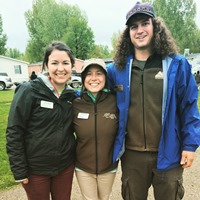 Upcoming Events
9th Annual Get Outdoors Day
-
June 11th 10-3
@ Sloan Lake Park
Interested in registering a booth? Visit http://www.getoutdoorscolorado.org/ngod/exhibitors
Exhibitor Registration:
Now-May 29th $75
May 29th-June 3rd $100
None accepted after June 3rd

No Barriers will have their Annual Summit on Copper Mountain, CO June 23-26. Thousands of people of all abilities from across the United States and around the world will embark on exhilarating adventures in 50+ adaptive activities in Sports, Adventure, Arts and Education, be motivated by phenomenal speakers and celebrities, and be inspired by some of the most creative and innovative technologies, products and services helping to transform lives.

Front Range Community College's Forestry, Wildlife and Natural Resource Program will be hosting the North American Wildlife Technology Association's 2016 Conference in and around Ft. Collins this summer, July 18- 22nd. Wildlife professionals from Canada and around the United States will engage in field-trips and hands-on experiences. From the prairies of Soapstone Natural Area to the peaks of Rocky Mountain National Park, this conference will showcase the incredible learning laboratories our students get to experience everyday.

Children and Nature Network's Natural Leaders Legacy Camp is coming to Denver!

Natural Leaders Network (NLN) comprises young, diverse grassroots messengers and change makers who are committed to increasing the diversity of people benefiting from meaningful connections to nature, outdoor activities and green job opportunities. Through the Legacy Camp initiative, NLN empowers emerging leaders with training, tools and mentorship to cultivate partnerships and programs that promote equitable access to nature-based opportunities for children and families in communities across the U.S.

http://www.childrenandnature.org/initiatives/natural-leaders/

If you are interested in being a PARTNER, TRAINER please contact Diane Wendt at dianecwendt@gmail.com


Additional Opportunities/Resources
Here is a Public Service Announcement by the National Forest Service about recreating on National Forests and Grasslands and getting out in nature there is one for each season and one featuring the landscapes and wildlife on our National Forests and Grasslands. You can watch the spring PSA here: https://vimeo.com/118134961. Please share this announcement with your friends and colleagues.
We also encourage you to visit www.itsallyours.us to learn more about this outreach effort.

Keen is offering a grant called the KEEN Effect where they will award $10,000 grants to nonprofit organizations around the world who are dedicated to preserving the places we all play. For more information, go to: http://www.keenfootwear.com/keen-effect.aspx