You are subscribed as %%emailaddress%%
Seeing Bison at Soapstone Prairie Natural Area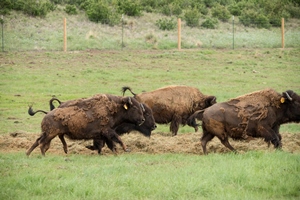 Plains bison were released to a pasture encompassing Soasptone Prairie and Larimer County's Red Mountain Open Space last Sunday. The Laramie Foothills Bison Conservation Herd is unique as it has addressed three conservation challenges: genetics, disease and habitat. Visitors may see the herd of ten animals in their pasture now until December when Soapstone Prairie Natural Area closes for the season. There is no trail access but you may see them from the road.
Directions: From Rawhide Flats Road/CR 15 junction, go about 4.5 miles north on Rawhide Flats Road and look to the west. The bison pasture is 1,000-acres, so the bison may not be visible.
Stay on the roadway and out of the pasture for your safety and the safety of the bison. In the future, the pasture may be expanded to the north, and at that time, bison would be more visible from the Cheyenne Rim Trail. Learn more about the bison project >>>
Skygazing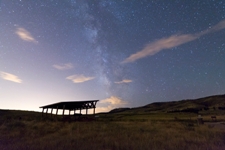 Skygazing continues through the colder months! Join the fun, Saturday, November 14, 7:30 – 9:30 p.m.at Fossil Creek Reservoir Natural Area, meet in the parking lot off Carpenter Road. Enjoy viewing the night sky with telescopes and knowledgeable volunteers provided by the Northern Colorado Astronomical Society. Dress warmly and bring a blanket or chair to sit on. Free, no registration required but you can get a reminder and updates by signing up at naturetracker.fcgov.com. For weather updates and cancellations, visit the NCAS website at ncastro.org.
Fall Trail Recommendation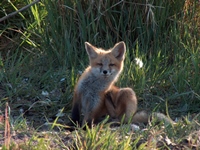 Red Fox Meadows is a great destination for a quick nature experience in the middle of town. Red Fox Meadows is a neighborhood natural area and an stormwater detention site. There is something for both people and wildlife here: habitat for wildlife, trails and reduced flood risk for people. You'll want to check out the parking lot near the intersection of Prospect and Taft Hill roads, the outdoor classroom boardwalk and Barb McKee's Art in Public Places piece featuring a heron and cattails in the outfall structure. There is about 1 mile of flat soft surface trail in several loops through the site.
Volunteer Ranger Assistant Applications Available Soon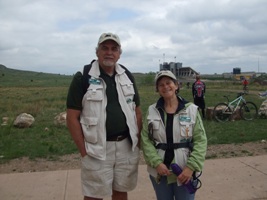 Did you want to be a ranger when you grew up? Now you can! Volunteer Ranger Assistants assist visitors on the trail, report matainence issues, and educate about regulations. A training is held once a year in the winter. The training is two evenings and a Saturday and volunteers commit to 20 hours of service. Applications will be available November 15 at fcgov.com/naturalareas.
Scruffy Lookin' Wildlife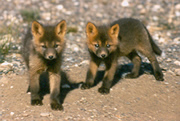 Have you heard of mange? Mange is a mite that burrows into the skin of wildlife and causes an allergic reaction. It results in severe itching, so much so that animals loose their own fur from scratching. Some animals are killed by the effects of mange since they can't effectively hunt or stay warm in winter. The disease is easily spread from animal to animal in burrows and during social interactions. This drop in the fox population has contributed to a spike in rabbits and small mammals. Natural Areas Department wildlife biologists are confident that red foxes will rebound and that the small mammal population will eventually level-off. Nuisance issues with rabbits or small mammals should be managed by private pest control companies. Contact Aran Meyer, Wildlife Technician, 970-416-2133 to learn more.

Natural Areas News is published on the first Tuesday of the month with occasional special editions. Newsletter comments are welcome. Please contact Zoe Shark, City of Fort Collins Natural Areas Community Relations Manager, 970-221-6311 or zshark@fcgov.com.

To learn more about Natural Areas, visit our website.