Development Review Newsletter

This Week in Development Review
Week of December 11 – December 15, 2017
---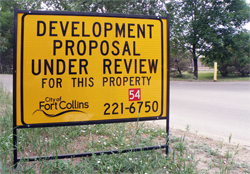 How Will I Know If A Project Is Proposed Near Me?
This site provides information about development review proposals at all stages of the process. Property owners within at least an 800-foot radius (or a greater distance in accordance with the standards outlined in the Land Use Code) of the boundaries of the parcel are notified via US Postal Service of any neighborhood meetings and hearings for development review proposals. Additionally, a notice is placed in The Coloradoan and a sign is posted on the property when a formal application has been submitted, or earlier, if a neighborhood meeting is planned.
This service is provided to keep community members informed about potential development projects and related policy discussions. To receive a weekly email of the content of this page, please enter your email in the box to the right.
Information about Development Proposals
Information on current development proposals is available online. Check out the searchable and sortable table of development proposals under review to find information on formally submitted proposals. You can search for a proposal by the sign number on a "Development Proposal Under Review" sign; or by a keyword search including any part of the project name, street name or number; and more.
Conceptual Reviews & Preliminary Design Reviews
Conceptual or preliminary design reviews are the first step in the review process, where applicants can determine the feasibility of a potential project prior to a possible formal submittal. Preliminary design reviews go into more detail than conceptual reviews. Some projects will move forward into the formal development review process; others will not.

There are three Conceptual Design Reviews scheduled forDecember 11:
1517 S Lemay
This is a request for a change of use at 1517 S Lemay Ave. The building is currently used as a retail floral shop and offices are proposed. The proposal includes removing the storage sheds west of the building. The property is located within the Neighborhood Commercial (NC) zone district and is subject to Administrative (Type 1) review.
4787 McMurry Ave - Telecommunication
This is a request to install cellular equipment and antennas on top of the mixed-use building at 5786 McMurry Avenue. The antennas are approximately 10 feet taller than the existing parapet and will be screened with an 11-foot wall in 3 locations. The proposal is within the Harmony Corridor (HC) one district and is subject to Administrative (Type 1) review.
Streets Park
This is a request to develop an existing stormwater detention site into a 5.5 acre neighborhood park at 625 9th St. The site would include recreation fields and courts in addition to a covered picnic shelter and restrooms. Access is from the east side of the site at 9th St approximately 500 ft south of Vine Dr. Parking stalls (15) are provided along the access road at the south side of the parcel. The proposed project is within the Industrial (I) zone district and is subject to Basic Development Review.
There are no Preliminary Design Reviews scheduled this week.
Neighborhood Meetings
Neighborhood meetings provide an opportunity for developers to provide preliminary information to neighbors regarding proposed projects before they are formally submitted for review. Neighbors then have the opportunity to provide feedback and/or ask the developer questions about the project as proposed.
There is one neighborhood meeting scheduled:
Meeting: Hansen Farm
Time and Location: December 13, 2017 6:15 P.M. to 7:45 P.M. Bacon Elementary, Flex Room, 5844 South Timberline Road, Fort Collins
Project Description: This is a proposal for a Project Development Plan (P.D.P.) for a portion of the Hansen Farm property located at the West side of South. Timberline Road at Zephyr Road. The P.D.P. includes 184 dwelling units with single-family detached, and single-family attached land uses on a total of 55.2 acres. The proposed P.D.P. represents an initial phase of a multiple phase development as described in the approved Overall Development Plan. Future development phases include the Medium Density Mixed-Use Neighborhoods (MMN), and Neighborhood Commercial (NC) zone districts and development tracts. There would be two points of access to this site including South Timberline Road from the east, and Red Willow Drive from the south. The site zoning is Low Density Mixed-Use Neighborhood (LMN), and would be subject to an Administrative (Type 1) Review and Hearing with decision by a Hearing Officer.
Recent Applications
This section typically includes Project Development Plans (PDPs), Overall Development Plans (ODPs), Major Amendments (MJAs), and proposals for annexations, rezonings, and additions of permitted uses.
Most recent development proposals under review:
Platte River Power Authority Campus
This is a proposal to redevelop the Platte River Power Authority Campus located at 2000 E Horsetooth Rd. The site is approximately 17 acres with the site plan indicating the original headquarters and various out-buildings to be demolished. As proposed, the project includes a new administration/customer service building, a new operations building, a new warehouse and other various storage and other out-buildings. The total new square footage would be approximately 80,000 square feet. Existing structures would be demolished. The project would be constructed in phases. Two access points would be closed, one on S. Timberline Rd. and one on E. Horsetooth Rd. The new site design will allow public access from the existing curb cut located on East Horsetooth Rd and gated access from Danfield Court. The existing pond will remain in its current location and be relined and expanded. The site is zoned Employment (E), and subject to review by the Planning and Zoning Board.
Final Development Plans (FDPs) are typically submitted following approval of Project Development Plans or Major Amendments at public hearings, and are reviewed by staff for consistency with the approved plans. No new submissions this week. One Final Development Plan was submitted this week:
Christian Brothers Automotive
This is a Final Plan to construct a vehicle minor repair facility at the northeast corner of Academy Court and Prospect Road. The building will be a one story and contain 5,140 sq. ft. of floor area. The proposed site plan shows 26 parking spaces. The site is located in the industrial (1) zone district.
Information regarding all current proposals, including Minor Amendments (MAs), is available in an interactive table of Development Proposals Under Review, or by calling the Development Review Center at 970-221-6750.
Administrative/Type 1 Hearings
Administrative/Type 1 hearings are public hearings conducted by a hearing officer. The hearing officer considers public input an important part of the development review process. Written comments are also welcome, and may be submitted in advance to the project planner or at the hearing. Written decisions are provided by the hearing officer within two weeks of these hearings.
There is one Administrative Hearing scheduled this week:
Notice of Hearing Re-Scheduling: Meeting: Boardwalk Office Building
New Time and Location: Monday, December 18th, 2017 5:30 P.M., 281 North College Ave, Conference Room A
This is a request for a Project Development Plan to construct a 7,351 square foot building containing professional offices along the street frontages. This site is located on .54 acres, located in the (E) Employment zone district.
Notice of Hearing: Meeting: FTC CSU South
Time and Location: Monday, December 18th, 2017, 5:30P.M., 281 North College Ave, Conference Room A
This is a request for a Project Development Plan to install wireless-telecommunications equipment at 221 West Prospect Rd. This request is in the CC (Community Commercial) zone district. Subject to a Type 1 hearing.
Planning and Zoning Board/Type 2 Hearings
Next Meeting: December 14th – Regular Hearing
At 6:00pm, in City Hall, Council Chambers at 300 Laporte Ave., Fort Collins, CO, the Planning and Zoning Board will conduct a regular hearing.
Agenda:
Consent:
1. November 16, 2017, P&Z Hearing Draft Minutes
Discussion:
2. Trail Head Townhomes
3. The Union on Elizabeth
The agenda and hearing packets for work sessions and regular meetings are available online approximately a week before the meetings or by contacting the Development Review Center at 970-221-6750.
City Council
Adjourned Meeting: Tuesday December 12th: At 6:00pm, in the Council Chambers at 300 Laporte Ave., City Council will conduct an Adjourned Meeting followed by a Work Session. Agenda items related to Planning and Development:
Work Session, After Adjourned Council meeting, which begins at 6:00pm:
Compatibility and Character Code Updates
The purpose of this item is to provide Council a progress report on three interrelated Land Use Code amendment projects that together address the compatibility of new construction with the existing built environment. Those efforts include improved Historic Adjacency Standards (part of the current Historic Preservation Code review project), and potential amendments to design standards for downtown and within transition areas at the interface between downtown and the Old Town Neighborhoods.
Rescheduled to December 19 Council Meeting: Long Pond Wireless Telecommunications Facility and Addition of Permitted Use (discussion – First Reading):
Consider an Addition of Permitted Use for a wireless telecommunications facility at 2008 Turnberry Road in the Low Density Mixed Use Neighborhood (LMN) zone district.
Meeting: Montava
Time and Location: Wednesday, December 13, 2017 6:00 P.M., City Hall, 300 W. Laporte Ave
This is a pre-application hearing regarding the Montava Development, located in the Mountain Vista Drive area between I-25 and Timerberline Road. The prospective development will be approximately 842 acres in size and will include new neighborhoods, parks, schools, town center, urban agriculture, business park uses and all related transportation improvements. No decisions will be made at this hearing. Public Comment will be gathered at this hearing.
For questions regarding this development, please contact Clark Mapes (Y21hcGVzQGZjZ292LmNvbQ==, 970-221-6225) or Spencer Branson (c2JyYW5zb25AZmNnb3YuY29t, 970-224-6086).
Agendas are posted online on the Thursday afternoon prior to each meeting.
Landmark Preservation Commission & Historic Preservation
Wednesday, December 20th – Regular Hearing
At 5:30 pm, in City Hall, Council Chambers at 300 Laporte Ave., Fort Collins, CO, the Landmark Preservation Commission (LPC) will conduct a Regular Hearing.
Demolition/Alteration Review and Appeals
Whenever a permit or development approval is sought for a building or structure 50 years old or older, the property is reviewed under Section 14-72 of the Municipal Code. Properties currently under review/appeal are listed at fcgov.com/LPC.
The following determinations were made:
1330 W Oak Street Built 1920
Decision on Proposed Work: N/A Determination of Eligibility Only
Decision on Landmark Determination: Individually Eligible
Appeal Deadline: 12/14/2017
Information can be found online at: fcgov.com/cityclerk/landmark-preservation, under the date of the meeting, or is available by contacting Cassandra Bumgarner, Historic Preservation Planner, at 970-416-4250.
For additional information, contact Karen McWilliams at a2NtY3dpbGxpYW1zQGZjZ292LmNvbQ== or 970-224-6078, or Cassandra Bumgarner at Y2J1bWdhcm5lckBmY2dvdi5jb20= or 970-416-4250, or see our Demolition/Alteration Review page.
Zoning Board of Appeals
Next Hearing: Thursday, December 14th - Regular Hearing
At 8:30AM, in City Hall, Council Chambers at 300 Laporte Ave., Fort Collins, CO, the Zoning Board of Appeals will conduct a Public Hearing

The Zoning Board of Appeals (ZBA) has the authority to approve variances from the requirements in the Land Use Code. It meets on the second Thursday of each month at 8:30 am in Council Chambers at 300 Laporte Avenue. Agendas and past meeting minutes are available at http://www.fcgov.com/cityclerk/zoning-appeals.php.'
Building Review Board
Next Hearing: Thursday, December 28th
The Building Review Board (BRB) is charged with the responsibility to hear appeals and requests for variances related to City building codes and contractor licensing regulations. The BRB typically meets on the last Thursday of each month at 1:00 pm in Council Chambers at 300 Laporte Avenue. Agendas and past meeting minutes are available at fcgov.com/BRB.
Information on the Review Process
More Info & Feedback