What
is

the

City's Commitment

to

Climate Action?#

In March of 2015 our City Council unanimously adopted the following accelerated climate action goals for our community:
20 percent carbon emissions reduction below 2005 levels by 2020
80 percent carbon emissions reduction below 2005 levels by 2030
Carbon neutral by 2050
We all play an important role in implementing our Climate Action Plan and we are excited to collaboratively take action for the health of our community, environment and economy.
Check out our progress in the 2017 Community Carbon Inventory
The City of Fort Collins is excited to share its 2017 Climate Action Plan (CAP) Update and 2017 Energy Policy Annual Update reports! The CAP report shows how the community is making progress toward its first climate action milestone – 20% reduction below 2005 levels by 2020 – and highlights some of the key successes of 2017. The Energy Policy Annual Update report shows community progress on energy-related goals, including increased wind and solar electricity generation, and increasing efficiency. More information on community progress can be found at the CAP reports page, CAP dashboard and Utilities What We Do page.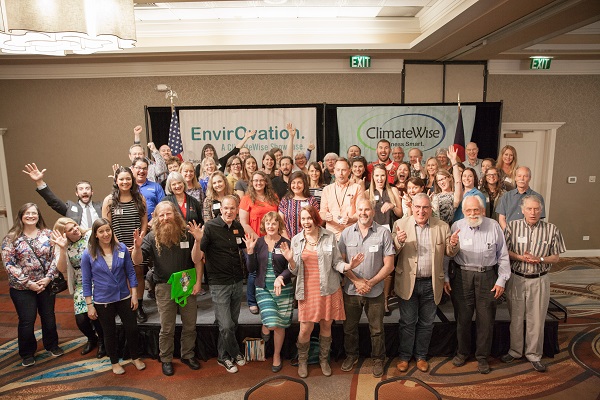 Mayor Announces 2017 Carbon Inventory Results at Envirovation
At the ClimateWise celebration Mayor Troxell shared the exciting preliminary results from the 2017 carbon inventory - the community has decreased its greenhouse gas emissions by 17% from the 2005 baseline level. These decreases are due to local action, new data, and methodology revisions, including the transition to the new Global Protocol.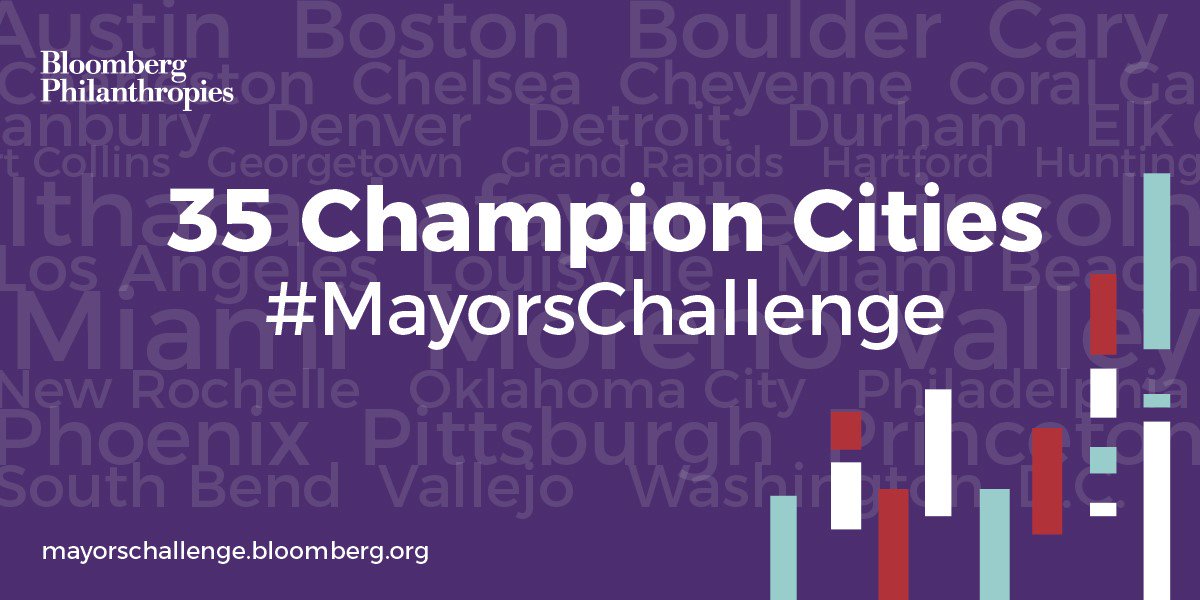 Fort Collins One of 35 Bloomberg Mayors Challenge Champion Cities
As part of the 2018 U.S. Bloomberg Mayor's Challenge, Fort Collins was awarded a $100,000 grant to develop a program focused on energy efficiency upgrades for low and middle-income rental housing to reduce health and economic disparities.
State, Regional, National
and

Global Affiliated Organizations#
Additional Background Information#
The City of Fort Collins is deeply committed to doing our part in addressing the global challenge of climate change and has been engaged on this issue since 1999 (when our first Climate Action Plan was completed).
Accompanying our updated goals is the Climate Action Plan Framework, which sets out a series of high level strategies to achieving the 2020, 2030, and 2050 goals. Since the adoption of these goals, the City has operationalized this work by forming an internal organizational structure and Council supported increased investments to achieve the goals in the 2017-2018 budget cycle (see more information below). View our reports page to track our progress toward these goals.
In addition to what we can do to mitigate our own emissions, the City is also planning on addressing potential impacts from climate change. A few highlights from this effort include:
We have done vulnerability and risk assessments that have identified a number of areas where services could be impacted negatively. Fort Collins Utilities has been actively addressing vulnerabilities from flooding, wildfire and drought and has added infrastructure and put response plans in place to reduce risk.
In 2016, the City's Recreation Department piloted new procedures for responding to wildfire smoke and heat events. Because this department serves a broad audience across the community, managing the impacts to youth and seniors was particularly important. This successful pilot will be expanded to the City organization in 2017.
City staff has worked with Larimer County Emergency Management and the Health Department to increase awareness and better collaborate as extreme events and challenges emerge in Fort Collins.
Additionally, the City will be developing an organizational municipal plan in 2018 that formalizes goals and strategies as part of our commitment to the Global Covenant of Mayors for Climate and Energy.
September 2015 - City Council Approves CAP Ordinance
On September 8, 2015 City Council expressed support for staff's development of the 2020 Climate Action implementation plans. Council members reinforced a sense of urgency to develop the plans given a recent uptick in greenhouse gas emissions, but also requested that staff provide measurable outcomes.
The implementation plan includes seven strategic areas listed below:
Energy Efficiency
Accelerated Alternative Energy Adoption
Multi-modal Planning and Development
Road to Zero Waste
Pilot Projects and District Scale Initiatives
Water and Land Use
The Climate Economy
Supporting these areas are a financing team and a team that will measure the community's success.
March 2016 – Review Draft Roadmap to Achieve 2020 Goals
On March 10, City Council held a Work Session to review the implementation options for achieving the City's 2020 Climate Action Plan (CAP) goals of reducing emissions 20% below 2005 levels. Watch the video to learn more about the exciting next steps the City is taking to achieve these goals.
April 2016 – City Council Approves CAP Ordinance
City Council agreed staff was heading in the right direction with the proposed initiatives to reach the City's 2020 Climate Action Plan goals and asked staff to highlight simple explanations of proposed projects and identify costs down to the individual level.
Watch a brief video of Lindsay Ex, CAP Program Manager, and Tim McCollough, Light and Power Operations Manager for Fort Collins Utilities, describing the Council discussion.
Download the full packet of information provided to City Council, including more specific details on the initiatives and projected benefits and costs.
August 2019 – City Council Acknowledges Global Climate Emergency
City Council recognizes the global climate emergency and reaffirms its commitment to reduce emissions to 20% below 2005 levels by 2020, reduce emissions to 80% below 2005 levels by 2030, and to be carbon meutral by 2050. Read the full Climate Emergency Resolution.
Budget#
View the budget website to see how the City's implementation plan for Climate Action fits in with other priorities.