Contact Information
Dept Head: Russ Hovland
PO Box 580, Fort Collins, CO 80522-0580
Development Review Newsletters
Building Services
Physical Address: 281 North College, Fort Collins, CO 80524
Mailing Address: PO Box 580, Fort Collins, CO 80522-0580
Phone: 970-221-6760
Fax: 970-224-6134
Email: YnVpbGRpbmdzZXJ2aWNlc0BmY2dvdi5jb20=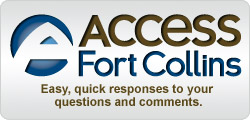 Office hours are Monday through Friday 8:00 AM to 5:00 PM, and through the lunch hour. We are closed most major holidays.
For after-hours general information only call CITY LINE at 970-416-2489:
For permit information, use extension 441 and 442
For Contractor Licensing, use extension 515
For Sign Ordinance information, use extension 137

Can't find us? Go to map and directions.