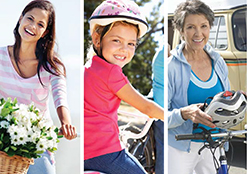 Women on a Roll
It starts with one trip!
This spring, in partnership with community organizations, FC Bikes will launch an initiative to encourage more women to bike. In 2009, a report from the League of American Bicyclists (Women Bike) identified five key strategies for increasing women's participation in bicycling, specifically the 5 C's: comfort, convenience, confidence, consumer products and community. Through classes, events, rides and more, FC Bikes will use the 5 C's framework to break down barriers to bicycling and get more women rolling on two wheels!
Upcoming Women-Oriented Events, Classes and Rides
These events are open to everyone!
Thursdays at 5:30pm, May – October
Ride, Sally Rides (RSR) are a weekly opportunity for women to get together and spend time in the saddle. We are not a new bike club. We are riders, racers, students, moms, locals, visitors, and friends who want to pedal together on Thursday evenings. This is simply a weekly excuse to branch out of our social networks to experience new rides and new people in and around Fort Collins. Rides are determined by each week's volunteer leader, and range in difficulty and style – from social rides to fitness rides; road, trail, or dirt. We'll use the community BAP calendar to post ride leaders and details at least a week in advance. Let's get that calendar filled up! Time to show off your favorite ride!
To lead a ride or to join the weekly ride notification list, contact PGFjbGFzcz0=">cmlkZXNhbGx5cmlkZWZvY29AZ21haWwuY29t.
Sunday, May 4, from noon-4 p.m., The Gardens on Spring Creek
Whether you're 8 or 80, it's never too late to start rolling on two wheels! The Women's Bike Expo will feature local clubs, free helmets, kids' activities, women-oriented bike gear and local bike shops to help you feel confident and comfortable riding a bike. In addition, a series of short classes (like fix-a-flat) and rides will take place over the course of the day.
Sunday, May 11
Celebrating women and cycling, around the world, one day a year. Join the community to celebrate Cyclofemme on May 11 for bicycle rides of different styles – there's bound to be one that fits your needs!
Check out the local ride details on Facebook.
Family-friendly leisure ride ("Townie Ride")
Mountain bike ride
Road ride (two options)
The day of CycloFemme festivities will conclude at New Belgium Brewery for social hour (2-4 p.m.) – share stories from your day, see pictures and meet other people to continue the riding experience throughout the year!
May 17 from 10 a.m.-noon at Fort Collins High School
June 14 from 10 a.m.-noon, location pending
Regardless of your age, it's not too late to learn to ride a bicycle! Adult Learn 2 Ride! is a free women-oriented, 2-hour class for adults (+14 years) interested in learning how to ride. Through a safe, easy, and effective method, Students learn how to balance, pedal, start, stop and steer a bike. You will also learn how to properly fit a helmet. Most people learn to ride a bicycle while taking the class, and we're confident you will too! You will leave with a new set of skills and access to the resources you need to continue to improve.
A bicycle and a helmet are required. Don't have one? Don't worry! Just note in your registration that you need a helmet and/or a bicycle and we'll provide it for you.
Registration is required! Attendance is limited to 30.
Contact information
Tessa Greegor | dGdyZWVnb3JAZmNnb3YuY29t