9am-noon, 1-4pm (M-Thu, closed on Fridays and holidays)
The majority of all commute trips made in Fort Collins are five miles or less in length - a distance that is comfortably accomplished on a bicycle in about the same amount of time as in a motor vehicle. Commuting by bicycle offers vitality, health and stress reduction.
Here are some tips for commuting by bicycle.
You the Commuter
Plan your route according to your ability
Know the rules and responsibilities you have as a bicyclist
Bicycle Laws
Consider the benefits of wearing a helmet - you will be more visible to other drivers, better protected against injury, and motorists have more respect for the cyclist wearing a helmet
Carry waterproof clothing
Carry identification
Wear eye protection
Wear padded gloves
Your Bicycle
Each day before riding check your brakes for wear and tires for appropriate inflation - each week give your bicycle a thorough inspection
Use a seat pack capable of holding a spare tube; tools, flat tire repair kit; coins for phone call - or cellular phone
Bring a tire pump (most can be attached to your bike frame)Fenders will keep you and your bicycle clean
Rear rack and panniers or a bicycle trailer to carry your belongings
Use a bell to signal to others that you are approaching
Use a mirror for scanning behind while you ride but also learn the technique of looking back while holding a straight line
Consider taking a basic maintenance class through a local bike shop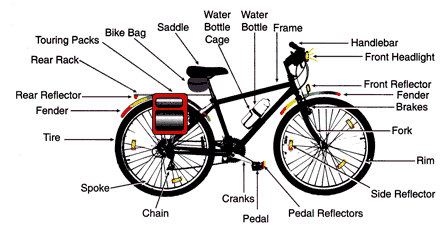 At Night or When Conditions Cause Poor Visability
Required by State and Local Law:
Front white headlight visible from 500 feet - approximately one city block
Rear red reflector visible from 600 feet
Mounted side reflectors visible from 600 feet
A red rear flashing light is recommended to increase visibility
Wear light colored clothing or clothing that is retro-reflective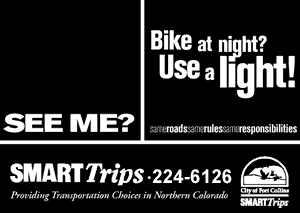 For a complete listing of Commute links click here